Thread Options
Mark as New

Mark as Read

Bookmark

Subscribe

Email to a Friend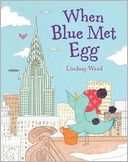 In Lindsay Ward's
When Blue Met Egg
, Blue is a plucky, winter hat-wearing bird who discovers a strange white egg in her nest. (Keen-eyed kids will quickly pick up on the fact that the egg is actually a stray snowball.) But shhh…don't tell Blue that. "'My, you're early. How did you get here?'" says Blue. When the cold, wet round thing doesn't answer, Blue places Egg in her small orange bucket and sets out to find its mother. And so begins a delightful journey from one well-known New York City landmark to another. Toting Egg in her bucket, Blue checks out Central Park, searches the top of iconic skyscrapers, and even ventures on a subway ride uptown. (I love the picture of intrepid Blue under the subway seat surrounded by the legs of human riders.) Everywhere she goes, she asks other birds if they've seen Egg's mother. "But nobody seemed to be looking for a missing egg." With no mother in sight, Blue takes Egg under her wing and they spend several months having fun together. Blue and Egg go ice-skating, visit museums, and even take in an opera. But as spring approaches, Blue notices that her little friend doesn't seem like itself. Thinking Egg is sick, Blue gives it some soup—"but that just seemed to make things worse." One morning, she wakes up and finds that Egg is gone. What will Blue discover when she peers over the edge of her nest? The surprise ending is as welcome as a breath of fresh spring air. Young readers will also love poring over Ward's cheery cut-paper illustrations, which are full of amusing details.
Now that I've whet your appetite, here are three more wonderful stories about mysterious orphan eggs and the drama that they cause:

Duck and Goose by Tad Hills. A young duck and goose discover a colorful spotted "egg" and each tries to claim it for his own. Eventually, they both end up sitting on the egg (which looks suspiciously like a ball) and as they spend a lot of time together, they gradually realize two together is more fun than one against one. This lesson comes in handy when another bird innocently asks if she can play with their ball too.

The Odd Egg by Emily Gravett. Duck feels left out because all the other birds have laid an egg—every fowl except him. Then he finds a huge speckled egg and decides to adopt it. He patiently sits on his discovery while the other birds make fun of his odd-looking charge. Finally, one by one, everyone's eggs start hatching and cleverly cut pages reveal each hatchling being welcomed by its mother. What pops out of Duck's egg will surprise and delight, and remind readers that birds aren't the only creatures that hatch from eggs.
Horton Hatches the Egg. This Seuss classic, which precedes Horton Hears a Who!, has our faithful, kindhearted protagonist babysitting an egg when its selfish birthparent leaves her post and suckers Horton into doing her duty for her. What ultimately hatches out of the egg makes for an utterly satisfying happy ending.
Want to keep up with my reviews, and all of Barnes & Noble's exclusive reviews, author interviews, videos, promotions, and more? Please follow us on Twitter: @BNBuzz!
Have I left out your favorite book? Can you think of other stories that feature orphan eggs and surprise hatchings?
Permalink