Thread Options
Mark as New

Mark as Read

Bookmark

Subscribe

Email to a Friend

As we head into a new school year, here are two cleverly-executed picture books that help children think about numbers in a fun, engaging way: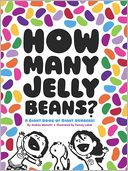 How Many Jelly Beans? by Andrea Menotti, illustrated by Yancey Labat. There's a good reason why this picture book is oversized. When Emma and Aiden are asked how many jelly beans they would like, the kids try to outdo each other in their requests. At first Emma asks for 10 and Aiden asks for 20, but then the numbers quickly escalate to hundreds, thousands, and finally a million. And here's the clever part: Each number is depicted by the actual number of jelly beans. To help young readers conceptualize how big these numbers are, they see 500 jelly beans covering a coffee table; 1,000 beans divided into two or three a day over an entire year's worth of calendar pages; and a stack of 5,000 compared to a 10-story building. When Emma finally asks, "What about one million jelly beans?" you'll need to put the book down on the floor for the amazing finale—a humongous foldout depicting a million (I'll take the publisher's word for it) jelly beans.

Wumbers by Amy Krouse Rosenthal, illustrated by Tom Lichtenheld. More like a puzzle book than a storybook, each standalone spread depicts a scene in which the characters speak in wumbers. What are wumbers? They're words created by combining letters and numbers, of course! For example, two little girls are seen playing tea party. One asks, "Would you like some honey 2 swee10 your tea?" The other responds, "Yes, that would be 1derful." In another scene, two siblings are conspiring with each other. One whispers to the other, "Here's the plan: I'll climb the s2l and go str8 to the cookie jar. You be on the lookout 4 Mom." Once they get the hang of it, kids will have fun deciphering the text. And in the process, they'll practice not only number recognition but also phonological skills needed for sounding out words. How gr8 is that!
Can you think of other books that make numbers fun and accessible for children?
+++++++++++++++++++++++++++++++++++++++++++++++++++++++++++++++++++++++++++
Want to keep up with my reviews, and all of Barnes & Noble's exclusive reviews, author interviews, videos, promotions, and more? Please follow us on Twitter: @BNBuzz!
Sandra Lee Rella, mother of two budding bookworms, is a freelance editor and writer, and a former children's book review editor.
Permalink