Thread Options
Mark as New

Mark as Read

Bookmark

Subscribe

Email to a Friend

It seems like only yesterday that my daughter was getting ready to start preschool for the first time. Scary, how time flies! As summer winds down and back-to-school season nears, my 5-year-old is gearing up for kindergarten. We've visited and we've talked about it and I know she's a little anxious—because it means saying goodbye to her familiar, cozy preschool and going to the Big School, where the older kids go. To help prepare her, we've also been reading books about kindergarten. Here are her favorites so far. (For more
book suggestions
for soon-to-be preschoolers, kindergarteners, and early graders, see my
earlier post
.)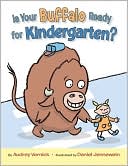 Is Your Buffalo Ready for Kindergarten? by Audrey Vernick, illustrated by Daniel Jennewein. Through a wacky premise involving the adventures of a kindergarten-bound buffalo, young readers receive reassuring advice about how to behave and what to expect at school. As you might expect, the buffalo—being the only one with horns and a hump—stands out like a sore thumb. But we see the other children accepting him ("who can resist that furry face"). The buffalo feels shy. He's worried about not being good with scissors and he gets very messy during finger-painting time. But readers learn that these things aren't a big deal in kindergarten and besides, he has other talents that endear him to the class.

Kindergarten Countdown by Anna Jane Hays, illustrated by Linda Davick. Written in rhyme, this cute little book features a young girl who is counting down the days to kindergarten. On the left-hand page, a number is highlighted. On the right-hand page, the day of the week is featured. Our protagonist is excited and looking forward to the big day—there's no mention of fears like mean kids or not knowing what to do in school. Instead, she can't wait to make new friends and stuff her backpack with her favorite toys. Her enthusiasm is contagious.

Kindergarten Diary by Antoinette Portis. Beginning with September 1 ("the day before the first day of school), a child writes in her diary about her fears, impressions, and experiences at kindergarten. Gradually, her worries (about the big kids being mean and her teacher being scary) give way to entries highlighting fun activities and the making of new friendships. Portis does a great job of writing in a 5-year-old's voice and her mixed-media illustrations are full of humorous, quirky details to keep young audiences engaged. By the end of the month, our young narrator has decided, "I definitely like kindergarten." But her diary-writing days are over. Her last entry gives us the reason: "Too busy to write any more!"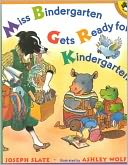 Miss Bindergarten Gets Ready for Kindergarten by Joseph Slate, illustrated by Ashley Wolff. Interspersed with scenes of the teacher preparing her classroom for the first day of school, we see the students also getting ready for the big day. Like the teacher, who is a black-and-white sheepdog named Miss Bindergarten, all the students are animals. What's more, there are 26 students—from Adam Krupp the alligator to Zach Blair the zebra—so your young reader can brush up on his alphabet while being entertained by the activities of the animals. Best of all, gentle, rhyming text and bright, expressive illustrations make kindergarten seem like a fun, inviting place—not all that different from preschool!
What are some other good back-to-school titles for little kids?
++++++++++++++++++++++++++++++++++++++++++++++++++++++++++++++++++++++++++
Want to keep up with my reviews, and all of Barnes & Noble's exclusive reviews, author interviews, videos, promotions, and more? Please follow us on Twitter: @BNBuzz!
Sandra Lee Rella, mother of two budding bookworms, is a freelance editor and writer, and a former children's book review editor.
Permalink