Thread Options
Mark as New

Mark as Read

Bookmark

Subscribe

Email to a Friend

Today (April 29) is the last day for kids to vote for the Children's Choice Book Awards, and next week is Children's Book Week (May 2 to 8). There are so many outstanding books nominated in each age category and worthy authors and illustrators (Suzanne Collins, Rick Riordan, David Wiesner, Mo Willems, to name just a few) up for an award that I'm glad I'm ineligible to vote. In looking over the list of this year's finalists, I also discovered books that had slipped under my radar (like Hot Rod Hamster and Even Monsters Need Haircuts in the Kindergarten to Second Grade category).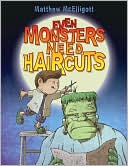 Written and illustrated by Matthew McElligott, Even Monsters Need Haircuts is about a young boy who sneaks out at night to give haircuts to monsters in his dad's barber shop. With supplies in hand (rotting tonic, shamp-ewww, moon powder, tangling brush), the boy describes how he grooms his unusual customers: Some always want the same cut (Frankenstein); others always want something new (Medusa). Like the text, the illustrations are full of humorous details. When our young barber is working on Medusa's hair, we see that he's blindfolded. When Vlad the Vampire is getting his hair cut, sharp observers will notice that he has no reflection in the mirror. Heavy on the fun, light on the fright, this is a great book to keep in mind for story times around Halloween.

Ready, set, go! Hot Rod Hamster by Cynthia Lord, illustrated by Derek Anderson, features a plucky hamster who is intent on building a car to enter into a race. With the help of a junkyard bulldog and young readers (whose opinions are solicited by the refrain: "Which would you choose?"), the hamster builds his dream racecar and competes against bigger cars with bigger, formidable-looking canine drivers. Will our tiny hero win the race? Lord's rollicking, rhyming text ("Great day, grin day, build a car to win day,/Cheer day, chase day, gonna have a race day!") and Anderson's bright, cheery pictures of speed-loving animals and their vehicles make this a fun read-out-loud.
After you've checked out the books nominated for the Children's Choice Book Awards (winners will be announced online May 3), check out the events happening in honor of Children's Book Week (May 2 to 8).
How many books have you read that were nominated for a 2011 Children's Choice Book Award? Which are your favorites? Are you planning on celebrating Children's Book Week?
Permalink