Thread Options
Mark as New

Mark as Read

Bookmark

Subscribe

Email to a Friend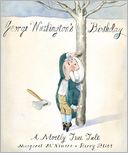 In
George Washington's Birthday: A Mostly True Tale
, Margaret McNamara (the author of last year's
The Three Little Aliens and the Big Bad Robot
) introduces children to a young George Washington who thinks and acts like they do. Sure, he wears a powdered wig and practices his math with a quill and ink—but like any former 6-year-old who wakes up as a newly minted 7-year-old, he's peeved when no one in his family seems to remember that today is his birthday. His distracted mother tells him, "Now, eat your porridge and mind the baby," and his father gives him chores to do: "You can help me prune these cherry trees." George is so upset that he gets carried away with the hatchet and ends up chopping down a cherry tree. After he confesses and cleans up the mess he's made, George is sent to his room until dinnertime. There, he writes down his rules for good behavior ("think before you speak") until he's called to the dining room, where a surprise birthday feast awaits. The ending may not be all that surprising, but young readers will delight in knowing that even George Washington was once a regular, fun-loving kid with a caring family.
Barry Blitt's witty watercolor illustrations make us see colonial times in a whole new light (forget stiff and formal, think casual and funny). McNamara peppers her narrative with humorous inside jokes. (My favorite is George muttering under his breath to his bossy older brother: "Someday I'll be the boss of you.") She also includes captions throughout the text that highlight facts and myths associated with Washington. For example, it's a fact that Washington wrote a list of rules for good behavior "to help him remember how to be a gentleman"; it's a myth that he cut down a cherry tree and truthfully confessed to his crime. There is an afterword on the last page (written in Washington's voice) that provides even more fascinating facts about the Father of our Country. (For example, did you know that Washington was actually born on February 11, 1732, not February 22, 1732, because they used a different calendar back in those days?) If you're looking to add to your collection of books about American history, consider George Washington's Birthday. Clever and funny, it'll have kids soaking up facts about the first president while chuckling over his antics.
Want to keep up with my reviews, and all of Barnes & Noble's exclusive reviews, author interviews, videos, promotions, and more? Please follow us on Twitter: @BNBuzz!
When it comes to books about George Washington or any other American president, what books do you like to use in the classroom or read at home?
Permalink