Thread Options
Mark as New

Mark as Read

Bookmark

Subscribe

Email to a Friend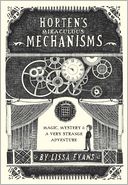 When his family moves back to his father's hometown, 10-year-old Stuart Horten prepares himself for a long, boring summer. Without school he doesn't even have a way to make new friends, unless he's forced to hang out with the nosy triplets from next door. But an accident involving a decrepit phone booth reveals a family mystery that's been dormant almost 60 years. After a factory fire, Stuart's great-uncle --- a magician --- disappeared. Following a string of clues, hidden within a series of coin-operated machines, Stuart uncovers his family's history and hopes to find the secret workshop his great-uncle is rumored to have left behind.

Horten's Miraculous Mechanisms by Lissa Evans is the kind of book I loved to read as a child. As my own home was disappointingly free of secret passages, I never tired of reading about them in books. Horten's Miraculous Mechanisms is the perfect blend between ordinary circumstances and extraordinary events, making the whole adventure seem plausible within the everyday world. The book's author, Lissa Evans, has a deft touch with the world as seen by a child. Stuart must learn to navigate not only the streets of a new town, but also the people he finds there.

My favorite character is probably Stuart's father, a crossword puzzle creator, who will never use a simple word if he has a multi-syllabic synonym available. Evans uses this eccentric character to reveal Stuart's exasperation with the adults around him, though it's a sneaky way of fitting in vocabulary builders into an otherwise simple text. Containing humorous adventures and puzzles, the reader uncovers the mystery at the same rate as Stuart, even if the ending of the book points to magic larger than an entertaining illusion and opens the gateway for new adventures.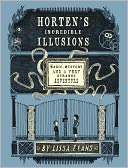 Though the book's ending --- suggesting actual magic, rather than just illusion --- breaks the previous rules of engagement, I am already looking forward to the next book in the series.
Horten's Incredible Illusions
, coming out September 4th and already available for pre-order, finds Stuart curating an exhibit of his uncle's "miraculous mechanisms" at the local museum, and the promises to reveal the secrets --- both mechanical and magical --- that they contain.
Sarah A. Wood, reviewer for teenreads.com and kidsreads.com since 2003, is a lifetime reader and writer. She refuses to accept that there are people who don't like to read and stubbornly believes this is only because they have not met the right book yet.
---
Want to keep up with reviews, and all of Barnes & Noble's exclusive reviews, authors interviews, videos, promotions, and more? Please follow us on Twitter:
@BN

Permalink