Thread Options
Mark as New

Mark as Read

Bookmark

Subscribe

Email to a Friend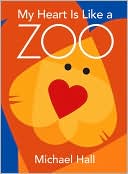 If you're looking for books to get children to think about shapes and colors, or to inspire creative projects, I've got two standout suggestions for you. The first, My Heart Is Like a Zoo, by graphic designer Michael Hall is also—you guessed it—a great choice for story time around Valentine's Day. The book begins with an image of various animals peeking through a heart-shaped window. A heart-shaped nose here and there and the window itself are clues to what you'll find inside: 20 colorful collage animals all created out of hearts. Except for tiny circles (used for eyes and nostrils) and triangular shapes (used for tusks and horns), every creature (moose, hippos, penguin, bear, to name just a few) is composed of heart shapes. You have to see it to believe it (according to the back cover, more than 300 hearts were used to create the animals). The simple, rhyming text that accompanies the illustrations associates an emotion with each critter: "My heart is like a zoo—/ eager as a beaver,/ steady as a yak,/ hopeful as a hungry heron fishing for a snack…" On the last spread, the animals appear again on shelves above a child sleeping in bed ("tired as a zookeeper who's had a busy day"). Kids will have fun counting the heart shapes on each page and will want to try their hand at creating their own heart animal.

Similarly, Perfect Square, also by Hall, features a single shape (this time, a square) and makes us see it in a whole new way. On the first two spreads, readers are introduced to a "perfectly happy" square (after all, it had "four matching corners and four equal sides"). Alas, perfection is fleeting: The subsequent spread reads: "But on Monday, the square was cut into pieces and poked full of holes." Not to worry: Turn the page, and we discover that the square has reassembled its cut pieces into a fountain. Each day of the week brings more challenges: The square is torn, shredded, shattered, snipped, and crumpled. But square is resilient. Every time square is presented with an obstacle, it reinvents itself. Kids will be eagerly turning the pages to find out how: Scraps become colorful flowers in a garden, strips are laid into a park, and shattered fragments turn into a bridge. Hall saves the most delightful transformation for the end—Sunday, when "nothing happened." Now feeling confined and cramped, square makes itself into a rainbow-hued window that tie in all the previous images. Both simple and sophisticated in theme and design, this bright cheery title will inspire kids to let their imaginations go and think outside of the "square."
Want to keep up with my reviews, and all of Barnes & Noble's exclusive reviews, author interviews, videos, promotions, and more? Please follow us on Twitter: @BNBuzz!
Are you familiar with these two books by Michael Hall? Can you think of other books that feature shapes in a creative way?
Permalink