Thread Options
Mark as New

Mark as Read

Bookmark

Subscribe

Email to a Friend

Just as there are an infinite variety of snowflakes, there seems to be an infinite variety of bear bedtime tales. The most recent one being (can you guess the title?) Bedtime for Bear by Brett Helquist. But wait…before you yawn and pass on by, do take a look. The premise is been-there-done-that, but it's the illustrations that make this picture book worth adding to your collection of wintry bear tales. Helquist, who illustrated Lemony Snicket's A Series of Unfortunate Events, brings an avalanche of comic energy and visual charm to this simple story about a bear getting ready for his long winter nap.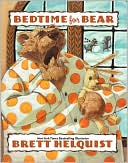 Bear, sporting a polka-dotted pajama top and clutching a stuffed rabbit, is snug in bed when his two raccoon buddies yell through the window, "Hey, Bear! Come out and play." When Bear is slow to respond, they try again: "Please? We won't see you again until spring." Bear tries to ignore his pals but he can hear them laughing and having fun outside. Before he knows it, he's been drawn into their snow play—sliding downhill every which way, making a snowbear, and throwing snowballs. In the end, it's his rowdy pals who cry uncle: "Hey, Bear. We're tired. It's late. Isn't it bedtime for bears?" And Bear is the one pleading for more snow action: "How about just one more time? I won't see you again until spring." Finally exhausted, Bear says good night to his friends and climbs into bed. As they depart, the raccoons affectionately call out, "See you in the spring," but Bear is already fast asleep.
Who knew a book with "bedtime" in the title would feature so much action and zip? Helquist depicts the animals' playful antics through bright full-page illustrations and cartoon panels. He also uses spare text, speech bubbles, and sound effects ("Thwaack! Splaaat! Thump! Zonk!") to keep the story rolling at a good pace. Not just at bedtime but any time of the day, this is a fun tale to read with preschoolers and kindergartners. When the last page is turned, they may be reluctant to end the romp. Like Bear, little ones may plead, "How about just one more time?"
What is your favorite bedtime story with bears in it?
Permalink