Thread Options
Mark as New

Mark as Read

Bookmark

Subscribe

Email to a Friend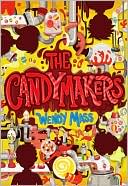 Just in time for the holidays is Wendy Mass's
The Candymakers
, a story about four kids chosen to compete in a national candy-making contest. Told from the point of view of the different contestants, The Candymakers is part mystery, part adventure, and 100% sweet:
Logan is the son of a candymaker and lives in a candy factory. He has dreamed of winning this competition his entire life, like his father and grandfather did before him.
Miles is quiet and has a penchant for talking backwards, in addition to allergies to strange things, including rowboats and the color pink. He carries a mysterious backpack everywhere he goes and is obsessed with the afterlife.
Daisy is sunny and likable. She comes from an eccentric background that seems like a patchwork of contradicting stories. She is interested in romance novels and likes to read them aloud.
Philip comes from a wealthy family and claims he does not like candy. He is only interested in winning the contest for the sake of winning. He carries a notebook with him everywhere he goes in which he is always scribbling.
Each of these characters has a secret that is not immediately revealed to the reader: one has terrible scars covering large parts of the body, one is a spy, one was witness to an accident, and one carries a secret longing for revenge along with a hidden talent.
With a setting reminiscent of Roald Dahl's classic
Charlie and the Chocolate Factory,
one might expect these children and their secrets to meet similar rotten ends. One of the great delights of
Charlie and the Chocolate Factory
is that bad things happen to bad people: Dahl metes out poetic justice to characters who deserve them. By contrast,
The Candymakers
is unrelentingly sweet. Despite their differences, their secrets, and the fact that they have been set up to compete, these four characters are able to find common ground and cooperate with one another to create not only a winning candy for the contest, but also a happy ending for them all. Likewise, even though each of the characters carries an experience or grievance that could sour their outlook on life, they are able to transcend these differences --- and utilize their true and individual talents --- to become both winners and friends. The secret to
The Candymakers
is a philosophy that everyone deserves a happy ending and a little of the sweetness almost everyone can enjoy --- like candy.
The Candymaker
s is Wendy Mass's 10th book for young readers. Many of the names and types of candy that appear in the book --- like the Neon Lightening Chew, or the Oozing Crunchorama --- are ideas she solicited from kids. In an interview that appears on
The Candymakers
website
, Mass says she loves to write for middle-grade readers because she feels books for this age group help shape "Who we want to be and what we want to do with our lives."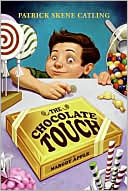 With its blend of friendship, mystery, and candy,
The Candymakers
is an excellent title for independent readers who enjoy puzzles.
Charlie and the Chocolate Factory
is the most obvious comparison for this book, but the shifting viewpoints and central mystery also reminded me a little of
The Westing Game
, Ellen Raskin's classic children's mystery novel.
Other candy-themed novels for middle-grade readers include:
The Chocolate Touch
,
Patrick Skene Catling's classic first published in 1952 about a boy who acquires a magical gift that turns everything he touches with his lips into chocolate. Initially a way to be able to choke down his least favorite foods, providing him with an endless supply and variety of chocolate, this magical gift soon shows itself to be a curse, when Midas-like his whole world and the people in it slowly turns to chocolate.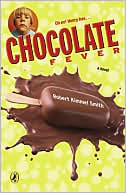 Another candy-theme classic for this age group is Robert Kimmel Smith's
Chocolate Fever
about a boy who loves chocolate so much that he breaks out in a previously undiagnosed case of chocolate fever, featuring symptoms such as spots of pure chocolate appearing all over his skin. On the run from doctors, teachers, and his parents, Henry becomes involved in a series of adventures, standing up to a group of bullies, and inadvertently becoming involved in the high-jacking of a truck filled with what else... bars of chocolate.
Do you like candy? Do you like reading about candy? What's your favorite fantastical title for youth-readers involving adventures with food?
Sarah A. Wood, a reviewer for teenreads.com and kidsreads.com since 2003, is a lifetime reader and writer. She refuses to accept that there are people who don't like to read and stubbornly believes this is only because they have not met the right book yet.
Permalink