Thread Options
Mark as New

Mark as Read

Bookmark

Subscribe

Email to a Friend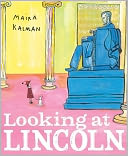 With Abraham Lincoln's birthday fast approaching (February 12), you might like to know about a charming new picture-book biography of our 16
th
president. Multi-talented illustrator, author, and designer Maira Kalman writes in the jacket bio that she first wrote about her love for Lincoln in a
New York Times blog
, which in turn inspired
Looking at Lincoln
, her latest children's book. Kalman's crush and admiration are clearly evident in this unusual, captivating biography. It begins with an unnamed narrator talking about how one day she saw a very tall man in the park who reminded her of Abraham Lincoln. The narrator goes to the library to find out more about the 16
th
president of the United States. The more she learns, the more she becomes fascinated—you might even say infatuated. And lucky for us, the chatty narrator proceeds to share with readers what she has learned about this "amazing man." What follows is a quirky mix of trivia and historical facts, brought to life by Kalman's vivid artwork.
For starters, we're told that there are over 16,000 books written about Lincoln: "I wanted to read them all, but I got lost in photos of his unusual face." We learn where he was born, what his family life was like, and how he became a self-educated young man. We follow him as he becomes president, issues the Emancipation Proclamation, leads a country at war with itself, gives the Gettysburg Address, and is assassinated shortly after the end of the Civil War. Interspersed with the historical information are humorous, ingenuous asides from the narrator ("I wonder if Mary and Abraham had nicknames for each other. Did she call him Linky? Did he call her Little Plumpy?") and little-known details that humanize the great man. For example, did you know that as a child, Lincoln was kicked in the head by a mule and slept for two days before he recovered? Or that he wrote notes to himself and stuffed them in his hat? Young readers will find these digressions hugely appealing.
The ending is moving and uplifting. The war and tragic end to Lincoln's life are illustrated with somber paintings of a fallen solder's uniform, objects associated with the assassination, and people mourning Lincoln's death. These images are followed by bright, airy pictures of cherry blossoms in full bloom in Washington, DC. And the narrator reminds us: "But a great man is never really gone." To prove her point, the final spread depicts a visitor (maybe the narrator) gazing upon the Lincoln Memorial and features Lincoln's famous quote, "…With malice toward none, with charity for all."
Visually and textually, Looking at Lincoln is a standout picture-book biography for children ages 5 to 10. Take a look for yourself! As for the kids, my bet is that they'll finish Kalman's book excited to learn more about the man we take for granted on our five-dollar bills and pennies.
Want to keep up with my reviews, and all of Barnes & Noble's exclusive reviews, author interviews, videos, promotions, and more? Please follow us on Twitter: @BNBuzz!
Can you suggest other books about Lincoln for children? What do you like to use in your classroom or have at home?
Permalink