Thread Options
Mark as New

Mark as Read

Bookmark

Subscribe

Email to a Friend

You may still be recovering from all the turkey and trimmings of Thanksgiving dinner—but might I interest you in another feast? Though Mud Pies and Other Recipes by Marjorie Winslow, with charming pen-and-ink illustrations by Erik Blegvad, was originally published in the 60s, this unique little book has never lost its appeal. In fact, it's been recently reprinted, yet again, by the New York Review of Books.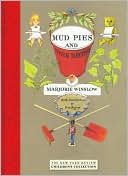 If you don't know this book, you're in for a delightful surprise. As Winslow drolly explains in the foreword, Mud Pies and Other Recipes "is a cookbook for dolls. … Doll cookery is not a very exacting art. The time it takes to cook a casserole depends upon how long your dolls are able to sit at table without falling over. And if a recipe calls for a cupful of something, you can use a measuring cup or a teacup or a buttercup. It doesn't much matter. What does matter is that you select the best ingredients available, set a fine table, and serve with style." The book, itself, is organized like an old fashioned cookbook. First come the appetizers (such as Daisy Dip); then soups, salads and sandwiches (like Molded Moss Salad); main dishes (Roast Rocks); pastries and desserts (Sawdust Cake); and finally, beverages (Chalk Shake). In the last section, pint-size chefs will find suggested menus.
The recipes are straightforward and easy to follow. The necessary ingredients and cooking utensils are things kids can easily find at home or in the backyard. For example, Wood Chip Dip is made by mixing dirt with water "until it is thick as paste. Place this bowl on a platter surrounded by wood shavings. Scoop the dip with chip." Crabgrass Gumbo is made with—what else?—crabgrass! What to do with leftover pencil shavings? Save them for the Pencil Sharpener Pudding! And then, of course, there's mud. Understandably, mud is a popular ingredient—you'll find recipes for Left-Handed Mudloaf, Right-Handed Mudloaf, Instant Mud Custard, and a variety of Mud Pies.
Mud Pies and Other Recipes is not just for young doll lovers; I can see it appealing to all children who like to experiment in the backyard and create their own concoctions using the most important ingredient of all—their imagination. This time of year, it'll make a great gift, perhaps paired with a sturdy toy cooking set. The only drawback: Kids may have a hard time waiting for the weather to warm up, so they can get going on those mud pies! But in the meantime, maybe they'll be inspired to make up their own recipes using seasonal ingredients, like snow and pine needles.
Are you familiar with Mud Pies and Other Recipes? What are your favorite childhood memories inspired by the recipes in this book?
Permalink