Thread Options
Mark as New

Mark as Read

Bookmark

Subscribe

Email to a Friend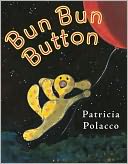 It was love at first read. My 4-year-old has fallen hard for a funny-looking storybook bunny—one with a button nose and a pocket in her right ear. If you've seen Patricia Polacco's picture book, Bun Bun Button, you'll understand why she's so taken with this stuffed toy that vaguely resembles a rabbit. In Polacco's cozy, heartwarming tale a little girl named Paige Elizabeth Darling looks forward to visiting her grandmother. One of her favorite things to do at Gramma's house is cuddling and reading in the Old Blue Chair. And she's not alone. Gramma's five kitties, two dogs, and pet squirrel love to cuddle with them as they read stories together. One day, Paige realizes that all of Gramma's pets have toys made especially for them—and she wishes she could have something special made by her grandmother too. So Gramma surprises her granddaughter with a stuffed bunny made out of yellow calico and a button nose. It even has a tiny pocket sewn in the right ear for Paige's little finger.
Named Bun Bun Button, the stuffed rabbit becomes the girl's constant companion. One day, despite Gramma's warning, Paige ties Bun Bun to a balloon and takes her outside "to see the sky." The string gets loose and Bun Bun is carried away by the wind. Below, Paige is heartbroken and worries about her beloved bunny. But Gramma is optimistic: "'Maybe a wind will blow her right back here to us,'" Gramma said. 'We Darlings are lucky, after all.'" In the meantime, Bun Bun is having a grand adventure. We see the calico bunny flying among the clouds, weathering a rainstorm, and getting tangled up with geese. Then, proving the grandmother right, the toy tumbles down to earth and lands back in Gramma Darling's backyard. In a raucous, joyous scene, Paige and Bun Bun are reunited and everyone heads to the Old Blue Chair for a group cuddle.
As always, Polacco's lively illustrations are full of emotion and quirky details that delight the eye and fuel the imagination. Like moths to a flame, young children will be drawn to the warmth and love clearly evident in the tight bond between Paige and her grandmother. If my preschooler is any indication, they'll be on the edge of their seats when Bun Bun is lost and they'll be supremely satisfied and comforted when the bunny magically returns. Upon finishing the story, my daughter turned to me and asked if she could have a Bun Bun Button for Christmas. Darn, if only I could sew!
Want to keep up with my reviews, and all of Barnes & Noble's exclusive reviews, author interviews, videos, promotions, and more? Please follow us on Twitter: @BNBuzz!
Patricia Polacco has written and illustrated over 50 picture books, such as Thank You, Mr. Falker and The Junkyard Wonders. Which is your favorite?
Permalink