Thread Options
Mark as New

Mark as Read

Bookmark

Subscribe

Email to a Friend
Jack's mother has often been unpredictable, but he never imagined she would abandon him at a campground in the middle of the night with no food or money. Initially thinking she has just left to bring back supplies, Jack tries to manage the rising tide of panic and the suspicions of other families at the campground. He's been through this before, the "spinning times" when his mother vanishes in a manic whirl of energy, but she's never been gone for so long, or left him so far from home.
Worried that she might be injured --- or worse, that the Department of Social Services might separate them permanently if they knew she left him unsupervised --- Jack gradually comes up with a plan: he will find his own way home from the Maine campground to his home in Boston. What ensues is the remarkable sojourn of an 11-year-old boy surviving on nothing but his wits.
About her book
Small as an Elephant
, author and educator Jennifer Richard Jacobson said, "I struggled to figure out how Jack, an abandoned boy, would survive --- not in the wilderness, but in civilization. I physically traced Jack's route (every place he visited actually exists) and tried to imagine what the journey would be like for an eleven-year-old, entirely on his own, and with a big secret to keep."
The result is a tale of adventure and survival where Jack camps in the woods, sleeps in barns, spends the night in an L.L. Bean store and even manages to get himself locked in a bank vault. Eating what food he can salvage or work for, raising small amounts of cash by recycling cans, Jack's adventures resemble what it is like for many who are homeless, even if the tale is designed to appeal to the reader's resourceful imagination. Jacobson intentionally places readers inside Jack's head, helping them to understand why he makes the decisions he does even if he doesn't do what most kids would and should do: call someone for help to locate his mother.
Small as an Elephant takes its title from Jack's interest in elephants. The story is punctuated with anecdotes and legends about elephants. The way elephants can communicate over long distances. Their famed "memory" that rises, apparently, from their keen sense of smell. Elephants will protect other elephants and form family groupings even if they are not related or started out in different herds. Elephants will even protect the young of other species when they are in danger: one of the remarkable anecdotes in the book is about an elephant trying to rescue a baby rhinoceros stuck in the mud despite being attacked by the ferocious rhinoceros mother. Jack gets it into his head that if he can manage to see Lydia --- one of the only elephants living in Maine --- everything will be okay. And he's right, though nothing turns out quite as he, or the reader, expects.
Jacobson is aware that
Small as an Elephant
is in the tradition of other childhood survival stories. What's evoked here is less wilderness survival, such as
Hatchet
or
My Side of the Mountain
, than it is books like
The Boxcar Children
, about a siblings who makes a home in a side-railed boxcar, or
The Great Gilly Hopkins
, about a girl in foster care. Jack wryly observes that lost children in books are usually rescued by rich relatives, something in short supply outside of fiction.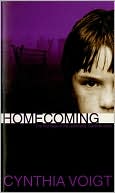 Small as an Elephant
most reminded me of Cynthia Voigt's
Tillerman
series. Dicey and her siblings are abandoned in a parking lot in
Homecoming
, and she is able to guide them across a similar wilderness of civilization to make their home with their great-aunt. It struck me that one of the unique things about the
Tillerman
series is that it is one of the only series I can think of that deals with what happens after children have been abandoned. Only the first book has the children living on their own; the remaining books (there are seven total) deal with the repercussions of abandonment, how early experiences shape the lives of the kids later on after they are living in a stable and loving environment.
There is a happy ending for Jack, and he is helped along the way by strangers who are all asking the right questions about a boy on his own, even if they come to the wrong conclusions. Small as an Elephant is devoid of predators; instead, Jack realizes he is "part of a makeshift herd, one that had spread out over miles." And it's this larger community looking after a lost boy that manages to bring him safely home.
What survival stories about orphaned or abandoned children have resonated most for you? What interests or hobbies have helped you through a difficult time?
Sarah A. Wood
,

a reviewer for
teenreads.com
and
kidsreads.com
since 2003, is a lifetime reader and writer. She refuses to accept that there are people who don't like to read and stubbornly believes this is only because they have not met the right book yet.
Permalink