Thread Options
Mark as New

Mark as Read

Bookmark

Subscribe

Email to a Friend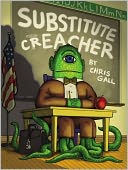 Definitely a treat, not a trick:
Substitute Creacher
(great title!) is a fun read for Halloween and beyond. I especially love the graphic-novel feel of Chris Gall's latest kids' book. The creature featured is a green, tentacled monster with eyes on the back of his head—which comes in handy since he also happens to be a substitute teacher. At first, the strange new teacher's creepy appearance doesn't faze the rowdy students in Ms. Jenkins's class. "Amanda snickered at the way he spoke" (Mr. Creacher speaks in rhyme) and "Luke drew an eye on his own forehead." But when mysterious Mr. Creacher becomes angry at their antics ("Attention all scamps, all rascals, and fools!") and begins recounting tales about previous students who had misbehaved, the kids sit up and take notice. Among others, there's Keith the glue-eater, Sara the hoarder, Hank the prankster, and Kylie the artist who loves to doodle when she should be taking tests. In the stories, each kid ends up meeting his or her spine-tingling comeuppance: the glue-eater sticks to everything he touches; the hoarder's desk explodes, the prankster's guppy grows into a terrifying shark, and the artist draws a dragon that comes to life and torches everything in its path.
Then finally, Mr. Creacher tells the story of a boy named Chris "with a fondness for thieving." On Halloween, this wayward boy liked to scare other kids for sweets. One day, Chris steals candy from a magical gnome and he discovers he's been transformed into a monster. Instead of being able to go home, the boy has to spend his days teaching "other children about wicked ways." When Mr. Creacher reveals that he was the boy ("Til he repaid his debt, a creacher he'd be. And by now you should know: That monster is me"), the children feel bad for him. Feeling remorseful, they promise "never to torment their teacher again." Rich, colorful illustrations in comic-book-style panels tell the ghoulish tale, which is just spooky enough to thrill young children (kindergarten to 3rd grade) without being too frightening. Case in point: A spell-breaking happy ending reassures readers that curses can be broken and you really can go back home again.
Want to keep up with my reviews, and all of Barnes & Noble's exclusive reviews, author interviews, videos, promotions, and more? Please follow us on Twitter: @BNBuzz!
What are you reading to your kids this Halloween?
Permalink