Thread Options
Mark as New

Mark as Read

Bookmark

Subscribe

Email to a Friend

This Thursday, April 26, is Take Our Daughters and Sons to Work Day, which originally began as a day for parents to empower their daughters by showing them what they did at work. But the reality is, many employed parents don't have the luxury of waiting for that one special day to bring their daughter or son to work. Snow days, school holidays, and childcare emergencies can require that they take their child to work with them. So, for parents who've had to bring their offspring to work or are planning to, here's a fun new picture book to share with their wee worker bee: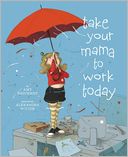 Take Your Mama to Work Today (ages 4 to 8) by Amy Reichert, pictures by Alexandra Boiger (the same team behind While Mama Had a Quick Little Chat), stars a precocious protagonist, named Violet, who is a pro at accompanying her mother to work. "You never know when you might have to go to work at the office," she says. "So be prepared." Violet proceeds to give readers advice on everything they need to know beforehand. For instance, "as soon as you enter the office building," we're told, "hop hop hop across the entire lobby floor on just the black squares." From there, she offers tips on everything from helping the boss give a presentation ("that's like show-and-tell") to answering the phone ("do not hang up the phone before you push the hold button first!!!") to interviewing potential employees (It's "a lot like making a new friend"…"You can help by asking a few good questions like, 'Do you have any pets?' and 'How old are you?'"). Ever helpful, our perky protagonist also offers translations for common work terminology: Snack time is known as coffee break, friends at the office are called colleagues, and nap time is referred to as a conference call. In contrast to Violet's confident observations ("Grown-ups love it when kids visit the office—they'll treat you just like a movie star!"), Boiger's humorous illustrations depict an office full of benevolent grown-ups scrambling to do damage-control in the young girl's wake. Finally, when it's time to leave the office, Violet's mom may be relieved, but readers will be sorry to see our well-meaning narrator "hop hop hop across the entire lobby floor, on the white squares only," to head for home after a day of hard work.
Want to keep up with my reviews, and all of Barnes & Noble's exclusive reviews, author interviews, videos, promotions, and more? Please follow us on Twitter: @BNBuzz!
Have you ever brought your child to work with you? What advice do you have for making the day go smoothly? Can you suggest books parents can read with their kids to prepare them for the experience?
Permalink