Thread Options
Mark as New

Mark as Read

Bookmark

Subscribe

Email to a Friend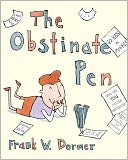 Got a case of writer's block? How about a pen with a mind of its own? In
The Obstinate Pen
,
by Frank W. Dormer (
Socksquatch
), a pompous man unwraps a handsome new pen and can't wait to begin writing with it. He chases his curious nephew, Horace, out of the room ("I must have silence when I write!") and starts writing the first sentence: "The following story is all true." Instead, the pen writes, "You have a big nose." He tries again, but each time, the pen writes something insultingly honest. In disgust, he throws it out the window and it lands on a police officer. The police officer tries using the pen to issue a ticket to a young woman. But the pen has its own agenda and instead of writing the ticket, it writes, "Kiss that girl!" Officer Wonkle tries again, but the pen won't let him off the hook. It writes, "Kiss her, banana head!"—which is really what the officer had wanted to do all along. (This being an innocent children's book, Officer Wonkle chastely kisses the cheek of the woman, who looks tickled pink by the attention.) Next, the pen is picked up by an eccentric, rich lady, who finds the pen's insults ("Mrs. Floofy Pants has a spoon up her nose!") hilarious. She uses it to entertain guests at a dinner party and then keeps it under glass in a room that no one visits. This is no life for a pen, especially a magic pen, so it does "what any prisoner would do." The pen escapes and serendipitously lands at Horace's feet. Horace, of course, knows what to do with the pen…but will it cooperate? I'll let you find out for yourself, but suffice to say that it's a happy, productive ending.
I suppose some grown-ups may be turned off by the pen's rude remarks, but most kids will get the humor and know what's appropriate and what's not in real life. Read out loud or solo, there's a lot to like here. The writing is clever; the cartoonish illustrations are amusing. Kids, ages 5 to 8, will find this wacky tale about a stubborn, ornery pen laugh-out-loud silly.
Can you suggest other books that explore the connection between children and creativity?
**********************************************************************************************************************
Want to keep up with my reviews, and all of Barnes & Noble's exclusive reviews, author interviews, videos, promotions, and more? Please follow us on Twitter: @BNBuzz!
Permalink