Thread Options
Mark as New

Mark as Read

Bookmark

Subscribe

Email to a Friend

Last week I discovered David A. Carter's marvelous pop-up book, 600 Black Spots, displayed in the home of a friend. This is a masterpiece of abstract pop-up engineering, less about a story than it is the amazing shapes and textures that emerge from the pages of the book. The first page alone, a stand-up fringe of 90 strips of paper, had me opening and shutting the cover repeatedly just to delight in the prickly fan of paper that stands out from the book. Taking a cue from Piet Mondrian's bold primary colors and black lines, 600 Black Spots is a kind of manufactured paper art to hold in your hand.
Of course, the first question after looking at the amazing variety of pop-up techniques utilized throughout the book is "How do they do that?" I suspect I'm not the first person who has wanted to tear a pop-up book apart merely to observe the folds. The art of pop-up, which folds a three-dimensional object to lie flat on a two-dimensional page, has always fascinated me. Carter, who is also author of Elements Of Pop Up, has a wide variety of templates and tutorials on his website so that you can design and create pop-ups of your own.

The author of over 50 pop-up books for young readers, Carter got his start as a graphic designer, ultimately making the leap to children's literature when he co-created his first pop-up book, How Many Bugs in a Box? with his wife, Noelle. The bug series, which tends toward lift-the-flap books for toddlers, has been a success for the couple. The Carters even have a winter-themed bug-book called Snow Bugs, which features a variety of winter activities charmingly illustrated with remarkably sturdy paper-engineered features that allow young readers to interact with the book.
But I'm more intrigued by the creative possibilities for older readers. Not only is 600 Black Spots (not to mention his earlier abstract titles, One Red Dot and Blue 2) a great title for curious minds of all ages, Carter's tutorials offer an excellent opportunity for older readers to design paper art of their own. I suspect that pop-up art teaches a variety of skills, not only measuring, math, and geometry, but a kind of spatial sense of objects. It comes as no surprise that one of the other giants of the pop-up world, Robert Sabuda, got his start by designing industrial packaging, including boxes for women's underwear.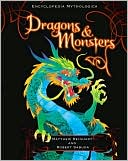 Robert Sabuda is probably the better-known pop-up artist. His most recent pop-up books are a series he created with fellow pop-up master Matthew Reinhart called Encyclopedia Mythologica, featuring gods and monsters from the world of mythology. The third and final book in the trilogy, Encyclopedia Mythologica: Dragons and Monsters (following Fairies and Magical Creatures and Gods and Heroes), will be out in April. Some of Sabuda's creations have escaped the pages of the book and now leap out of greeting cards. His website includes galleries of pop-up artists from around the world and an excellent list of pop-up resources for burgeoning paper engineers. Like Carter, Sabuda includes templates and instructions for do-it-yourself projects, which he has graded by difficulty.
What are your favorite pop-up titles? Have you ever attempted to design a pop-up book of your own?
Sarah A. Wood, a reviewer for teenreads.com and kidsreads.com since 2003, is a lifetime reader and writer. She refuses to accept that there are people who don't like to read and stubbornly believes this is only because they have not met the right book yet.
Permalink