Thread Options
Mark as New

Mark as Read

Bookmark

Subscribe

Email to a Friend


Ever since my 3-year-old started preschool and she received her first party invitation from a classmate, birthday celebrations have become a big part of our lives. To prepare my daughter, who is somewhat shy, for her first official birthday party as a guest, we read Brownie & Pearl Step Out, the first book in a series about a little girl and her pet cat, by Cynthia Rylant, pictures by Brian Biggs. It's perfect for her age (short and simple) and I like the fact that it addresses the anxiety many children feel when joining a group of people (even if it's a group of familiar peers). The book begins with Brownie and her cat, Pearl, happily walking to a friend's birthday party. But when it's time to knock on the door, Brownie has second thoughts—she's suddenly feeling shy. Brownie considers going back home, but her cat (not shy at all) jumps through the kitty door. "Now Brownie has to knock," and when she does, she's relieved to find friendly faces on the other side of the door. Before she knows it, Brownie is having fun playing games and eating cake and ice cream. After our first reading, my daughter would often ask for this book. I could tell that she related to Brownie's shyness and was comforted by the happy outcome. These days, my little girl is more of a birthday party pro, but she still likes looking at this book now and then. When she's older, she can read it herself. The simple sentences make this a good choice for beginning readers too.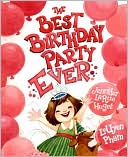 Published earlier this year and targeted to older girls (ages 4 to 8), The Best Birthday Party Ever is yet another birthday-party-themed picture book. Written by Jennifer LaRue Huget and illustrated by LeUyen Pham (Freckleface Strawberry), this tale is told from the perspective of the birthday girl, who starts planning her party even though her birthday is "5 months, 3 weeks, 2 days, and 8 hours away." Her plans become ever more elaborate, involving the tallest cake in the world, 6 zillion candles, a real castle, elephants, camels, and fighter jets. Instead of coming off as spoiled and demanding, the birthday girl's excitement and enthusiasm for her big day is charming and amusing as portrayed and illustrated by Huget and Pham. Kids will enjoy the fanciful details—and in the end (much to the relief of parents), they won't be disappointed with the more down-to-earth celebration in store for our young party planner.
Are you familiar with these titles? Can you recommend other birthday-theme books for young kids?
Permalink