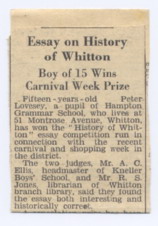 "Buried here, with a stake drove through his body,
is the wicked murderer, John Proctor, who cut the throats of his wife and child and then poisoned himself, July 6th, 1765." The opening lines of my History of Whitton essay in 1951 show a morbid fascination with crime even at age 15. My first payday as a writer.
Forced Start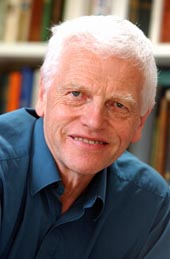 I was born at home, a suburban semi in Whitton, Middlesex, in 1936, "with instruments", as my mother used to say, and it didn't mean violins playing. In midwife-speak, I was turned down, a salutary experience for a future writer.
Earliest significant memory is a wartime one from 1944: being collected from an air-raid shelter at school and told our home had been destroyed by a V1 Flying Bomb. Miraculously my family escaped — brothers John and Andrew crawled out of the rubble, having survived under a Morrison table-shelter — although our neighbours in the other half of the house were killed.
After the bombing we were billeted with a farmer and his family in the West Country, an episode that influenced Rough Cider, my book about the memories of an evacuee.