Reply
Thread Options
Mark Thread as New

Mark Thread as Read

Float this Thread to the Top

Bookmark

Subscribe
BN Editor

Posts: 203
About the Book and Author
[ Edited ]
Options
Mark Message as New

Bookmark

Subscribe

E-mail this Message to a Friend
‎05-22-2007 11:47 AM - edited ‎08-15-2007 01:10 PM
Paulette Jiles and Stormy Weather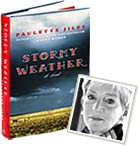 From the author of the New York Times bestseller Enemy Women comes a spellbinding Depression-era epic of a young woman caught between history and hope. Stormy Weather tells the unforgettable story of the Stoddard family as illuminated through the experiences of their headstrong and restless middle daughter, Jeanine -- a girl on the cusp of an adulthood that is threatened by the economic upheaval of the Great Depression, the suffocating sands of the Dust Bowl, and the emotional turmoil of personal struggle.
After the tragic and ignominious death of the charming but irresponsible Jack Stoddard, his widow, Elizabeth, and three daughters -- Mayme, Jeanine, and Bea -- have nowhere to turn but the rundown family farm. There, the women must find a way to survive against seemingly insurmountable odds.
In prose as stark and affecting as a Dorothea Lange photograph, Paulette Jiles's new novel is a testament to the sacrifice, courage, and resilience of ordinary people coping with extraordinary circumstances.
About Paulette Jiles: Stormy Weather is Paulette Jiles's second novel. Her first novel, Enemy Women, was published in 2002. A national bestseller, it was hailed as "a delight from start to finish" by author Tracy Chevalier, and praised as a "book with backbone, written with a tough, haunting eloquence" by Janet Maslin in the New York Times.
Jiles was born and raised in the Missouri Ozarks and moved to Canada in 1969 after graduating with a degree in Romance languages from the University of Missouri at Kansas City. She spent eight years as a journalist in Canada, before turning to writing poetry. She is the author of a number of books, including poetry and essay collections, and Cousins, "a memoir of sorts." She has won the Governor General's Award (Canada's highest literary honor) for poetry; Enemy Women won the Willa Literary Award for Historical Fiction (U.S.) and the Rogers Writers' Trust Fiction Prize (Canada).
Stormy Weather was inspired, in part, by Jiles's conversations, over the years, with people who lived in Texas during the 1930s. She says, "I was drawn by stories from older people about the Texas oil fields during the Depression. Most of those who lived through the Depression seemed to feel that everyone was in the same boat -- drifting and rudderless. For Jeanine, Elizabeth, Mayme, and Bea, returning to the farm means coming home to an old remembered place, and slowly becoming a part of it again. Even though the Stoddard women are desperately poor, they can and do find help from those around them. I hoped to contrast the loose, wild, gambling-and-racing world of the oilfields with the settled determination of the Brazos River people who simply buckled down and saw it through."
A dual citizen of the United States and Canada, Jiles lives on a ranch with her two horses, Dolly and Buck, and a donkey named Billie Bray, near San Antonio, Texas.
Discover all titles and editions from Paulette Jiles.

Message Edited by Amanda_R on 08-15-2007 12:10 PM