Thread Options
Mark as New

Mark as Read

Bookmark

Subscribe

Email to a Friend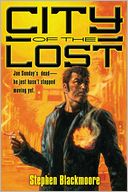 Thanks for hanging with me through all the excessive 2011 year-end listing and all. Now we can finally get on with 2012 which, as you've probably heard, will be the end of the world (or more likely just the point where some bored Mayan mathematician found something more interesting to do than continue counting into endless speculation – good for you, Mayan nerd). Is it mere coincidence that I've been reading a bunch of books with supernatural apocalypse themes in the last month? Not of the nuclear winter, World War III or eco-disaster variety, nor the Revelation of St. John flavor, but supernatural in the vein of George Romero or John Carpenter. Take Stephen Blackmoore's debut City of the Lost, which blends organized crime, flesh-eating zombies and magical objects like a particularly potty-mouthed J.J. Abrams too long on duty behind the bar mixing toxic, genre margaritas and succumbing to the temptaion to slip psychedelics to the unsuspecting (I dunno, you read it and let me know if I'm the only one who got a distinctly Alias – Milo Rimbaldi – vibe from certain aspects of this one). Not that that's a bad thing.
Not by a long shot.
Blackmoore knows his audience methinks.
For one, he tells his crime story from the point of view of Joe Sunday, an unrepentant criminal, a leg breaker for a mid-level Mafioso in Los Angeles – it's a living. (Speaking of 'criminal', how 'bout that cover art from Criminal's own Sean Phillips? Classy, no?). Secondly, when early on, Joe's story takes a hard left turn into horror, Blackmoore tells his zombie story not through a shivering, brainy bundle of prey, but from the slightly nauseated, but never the less undeniably hungry predator, which only makes sense - predator in life - predator in undeath. Thirdly, Blackmoore saves the nitro-injection for late in the story.
Don't get me wrong, Joe Sunday growls, shoots and chomps his way through the book's first half with admirable verve for cretin without a pulse, but City of the Lost really takes off when the Bruja shows up about half way through. I don't want to spoil any surprises… so I won't, but frankly, I'd like to see the Bruja get her own book next time out. Finally, Blackmoore keeps things pulpy, bloody and extra profane just for me. Really, it's as if he got my note: 'More sweary, please'. Pre-shate it. You like this one like I did you'll wanna get ready for Chris F. Holm's Dead Harvest in... February? (More on that one later).
So it's the end of the world as we know it, and if you need to get your head back in the game in time for Quetzalcoatl's return, this strong cuppa Joe is one I could recommend.
(You wanna read this take on it from blogga from a different mutha Paul Goat Allen right here. Yeah, you do.)
Jedidiah Ayres writes fiction and keeps the blog Hardboiled Wonderland.
Permalink