Thread Options
Mark as New

Mark as Read

Bookmark

Subscribe

Email to a Friend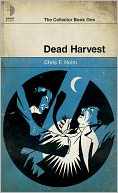 Can you afford to get lost in a good book this week? No? Then I strongly suggest you avoid Chris F. Holm's debut Dead Harvest. Seriously, back away from the book, 'cause it'll grab you. How does this grabbing take place? With angels and demons and Netherworld War III. Or rather with the continual state of war betwixt heaven and hell and the various nefarious beings that maintain the balance of light and darkness - like Sam, the protagonist of Dead Harvest. He's damned, but over it. He's the even-keeled 'Collector' at the story's center, who borrows bodies from the recently dead (or, in extreme circumstances, the unwilling living) through which he does his dirty work. Just another joe with a job to do – collect damned souls and send 'em straight to hell (do not pass go, do not collect $200).
Sam's a bag man for the devil (which, it turns out is not the title of a Rolling Stones song – I looked), Beelzebubba's knee-breaker. His is the last face you see before brimstone. Actually, the face you'll see belong to a grab-bag of recently stiffs who may seem familiar if you pour over the obituaries. You don't? Don't worry, if you ain't signed anything proffered by a split-hoofed lawyer at the sulfurous crossroads, or say killed a bunch of people in the last week or so, you probably have nothing to worry about. On the other hand, if somebody set you up? Made you a patricidal patsy and left you without a memory of the event? You might see him, but when he goes all repo-man on your mortal soul you'll give him the heavy heebee-jeebies. You see, he's used to that cold soul weight that the damned tend to sling and all your innocence and light might throw him into a headlong crisis of non-conscience. He may just jeopardize the balance of the cosmos to y'know investigate your predicament, find out who set you up, who would benefit from another war? Last time things got out of hand a third of Heaven fell, y'know? These are high stakes.
Balanced on the head of a pin, the precarious state of elemental harmony, as portrayed in Holm's slam-bang supernatural mystery, is only barely maintained by angelic secret service and demonic police. But it's Sam, his character revealed in action as well as pre-damnation flashbacks, who holds the narrative's center together. He's a bounty hunter, bag-man, enforcer for the capital-D Devil, but don't hold that against him. It's not like he went looking for the gig. No, like most souls found squirming, impaled on Satan's pitch-fork, he don't enjoy his job - it's a grind and the benefits suck, but it's tolerable for a few centuries at least as long as you don't rock the boat. Do your job and keep your head down. For (cough) heaven's sake, don't go second-guessing a simple collection. The girl obviously did it – slaughtered her family – her DNA is all over the crime scene and even the earthly cops have got her pegged for the crime. Don't go upsetting the order of things just because her soul 'feels' innocent… or at least very confused.
But you're incorrigible, Sam. You just can't help yourself, can you? You're not gonna send her to hell and grab a beer, and watch reruns, you're gonna flee the scene with the mark, defy direct orders and go on the run with a serious friggin liability in tow. You can kiss your comfy damnation goodbye, mister, you've crossed a line that there's no un-crossing.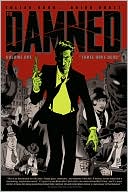 Dead Harvest is the first title in a new series from Holm (The Hitter) that promises to mess with your perception of unseen realities. Like Stephen Blackmoore's City of the Lost last month, this one goes looking for the lines so it can jump over them, gleefully mixes it's genre ingredients and plays with Sunday School and horror tropes in equal measure without feeling derivative. It's a world I'd like to revisit and I'm looking forward to wherever Holm goes from here. Besides Blackmoore, I was reminded of Duane Swierczynski's Secret Dead Men or Hellblazer, and that graphic novel The Damned, you ever read it? Straight-up prohibition-era gangster stuff with tough-guys and demons. Are they ever gonna do another installment? Seems I heard that Cullen Bunn and Brian Hurtt are all busy what with the SyFy network basing a new series on their other comic The Sixth Gun. C'mon, guys, don't leave me hanging.
Jedidiah Ayres writes fiction and keeps the blog Hardboiled Wonderland.
Permalink