Thread Options
Mark as New

Mark as Read

Bookmark

Subscribe

Email to a Friend
Last week American letters lost one of its richest and most authentic voices. William Gay, was sixty-eight years old and the author of only four published novels and a collection of short stories when he passed away on February 23, but I suspect we've hardly begun to hear of his influence. Gay, a veteran, carpenter and self taught writer published his first novel in 1999 after forty years of working toward it. He was fifty-five.
He wrote about Tennessee in the mid 20th Century, about people and ways of life that have all but disappeared entirely, and the lush, dreamy and downright eerie quality of his storytelling complimented subject matter as down to earth as to be occasionally literally beneath it. Themes of reckless young men, old men steeped in regret and those in transition from the former to the latter are explored throughout his books the way themes tend to when the author is working something out on a deeply personal level, and the level of access granted into a terribly private place may catch the casual reader unaware.
William Faulkner, Flannery O'Connor and Cormac McCarthy come to mind first when describing his aesthetic, but his characters – bootleggers, swindlers, killers and thieves – clear up any doubt that he absolutely belongs in the crime conversation. (Here he is in 2007) "Otto Penzler, who runs the Mysterious Bookshop, called me after (my first novel) The Long Home. He stocked it. He considered it a crime novel." (Read that interview here) I wouldn't argue with Otto Penzler who included Gay's short story The Paperhanger in The Best American Noir of the Century.
For the uninitiated here is a brief overview of the works of William Gay:
Long Home (1999) Nathan Winer is a high school drop out working as a carpenter for local bootlegger and pimp Dallas Hardin in 1943. William Tell Oliver is an elderly recluse who feels responsible for young Winer and is custodian of a secret that could cost the boy his life.
Provinces of Night (2000) Three strange and estranged adult brothers handle the news of their wayward father's imminent return with varying degrees of dysfunction and violence. The patriarch E. F. Bloodworth is a musician of considerable skill whose pursuit of his muse has enriched the lives of many and destroyed those of them closest to him.
I Hate To See That Evening Sun Go Down (2002) This collection of short fiction explores Gay's favorite themes from several different directions with humor, horror and highly lyrical prose.
Twilight (2006) A brother and sister, suspecting they've been taken advantage of, investigate a local undertaker and uncover far worse than they originally suspected. They attempt to blackmail their target who hires an assassin to kill the siblings. The resulting chase through the Tennessee backwoods is something akin to a perverse, land-locked Huckleberry Finn crossed with Blue Velvet and Night of the Hunter.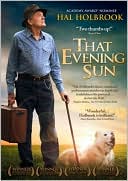 That Evening Sun (2009) Scott Teems' adaptation of the short story I Hate To See That Evening Sun Go Down featured Hal Holbrook as a retirement home escapee returning to his home only to find that his son has rented it out to a poor family. Ray McKinnon plays opposite Holbrook in one of the most unexpected and exciting battles of will I've ever seen on film.
Bloodworth (2010) Shane Dax Taylor's adaptation of Provinces of Night had a lot going for it including Kris Kristofferson, Dwight Yoakam and one of Val Kilmer's better performances of late, but didn't come close to the book's power or potential.
The Lost Country (2012?) Gay's fans have been teased by publishers announcing that this one was coming for a few years now, but he said, in one of his last interviews, that we could expect it in 2012. (Read that interview here) Here's hoping.
Jedidiah Ayres writes fiction and keeps the blog Hardboiled Wonderland.
Permalink