Thread Options
Mark as New

Mark as Read

Bookmark

Subscribe

Email to a Friend

A Bad Night's Sleep
by
Michael Wiley
. Outing number three for Chicago private dick Joe Kozmarski (after
Last Striptease
and
The Bad Kitty Lounge
.) This passes straight through my strike zone and I've no excuse for not getting to it sooner. Gritty, sleazy Chicago underworld, dirty cops and a hardboiled anti-hero. I'm so there. Late.
The Fatal Touch
by
Conor Fitzgerald
. The second book in the Alec Blue series (after
The Dogs of Rome
) focuses on the murder of an art forger - which is a subject that I find fascinating. Art forging. And violence of course.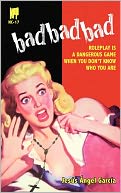 badbadbad is the debut novel from Jesus Angel Garcia about a man named Jesus Angel Garcia who kinda loses his mind when his wife leaves him. He starts over as both a servant of God and a sexual messiah in a double life worthy of Ed Wood. Coming from New Pulp Press, and right on the heels of Heath Lowrance's The Bastard Hand, it looks like they're carving out a niche for themselves - psycho, delusional, southern-gothic, religious noir! (Though they're not the only ones practicing - just wait till Donal Ray Pollock drops his 50-mega-ton The Devil All the Time in a couple of weeks. There is nothing you can do to adequately prepare for that one.)
East on Sunset
by
Ken Mercer
. Will Magowan is back after getting eighty-sixed from the LAPD for his substance abuse for another shot at life (after 2010's
Slow Fire
), but when an convict he put away returns and puts demands on now private citizen Magowan it becomes clear that the past isn't yet through with him.
The Ridge
by
Michael Koryta
. Does this guy sleep? A mere one year ago, Koryta took a break from his straight crime books and published
So Cold the River
, the first of three now, stand-alone supernatural thrillers (after January's
The Cypress House
.) He's said that his next will be another straight crime book, but man, the future looks wide open as far as what to expect from him.
What are you catching up on?
Permalink