Reply
Thread Options
Mark Thread as New

Mark Thread as Read

Float this Thread to the Top

Bookmark

Subscribe
Moderator

Posts: 3,511
Options
Mark Message as New

Bookmark

Subscribe

E-mail this Message to a Friend
‎08-09-2013 11:18 AM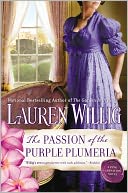 Hello everybody! I hope you're all having a romantic-read filled summer. I am so pleased to post this really awesome Q&A with one of my favorite authors, Lauren Willig. I was hooked on this series from the get-go, and then my undying fandom was cemented when Vaughn romanced Mary in The Seduction of the Crimson Rose (Pink Carnation Series #4).
Lauren's got some great thoughts on reading and writing, and what better time to share them than in support of her recent release, The Passion of the Purple Plumeria (Pink Carnation Series #10). Read below, and feel free to post your comments!
1. Where do you write? How important is your writing space to the writing process?
I have my Top Secret Writing Starbucks that I use to forcibly remove myself from the internet and email and kickstart my writing day. (As far as I'm concerned, Starbucks doesn't have WiFi, and I'd rather not be told otherwise.) Once I've had a few hours of banging my head against the manuscript at Starbucks, the momentum is usually strong enough that I can return to my desk at home and keep going without heeding the siren song of blogs to be read and emails to be answered.
Some authors have a semi-mystical attachment to particular routines, the odder the better. I remember being fascinated and amused by a Writer's Digest article when I was in my teens that detailed various famous writers' odd quirks: one could only write in a bathtub, another while balancing his manuscript on top of a refrigerator. (I'm assuming either a very short fridge or a very tall man.) My refrigerator is safe from me, but I do have my writing patterns—partly so that when I get stuck, I can break a block by mixing it up by moving my laptop from my desk to the dining room table to signal to myself that This Time I Mean It.
2. Who are some of your favorite authors to read?
There are always too many to list! Growing up, I devoured the mysteries of Elizabeth Peters/Barbara Michaels, Mary Stewart's romantic suspense, Judith McNaught's romance novels, and the historical fiction of Margaret Mitchell, Karleen Koen, Diana Gabaldon, and Judith Merkle Riley.
These days, my fallback authors include Angela Thirkell's witty novels of manners and mores from the 1930's, Dorothy Sayers's Lord Peter Wimsey mysteries, contemporary romances by Kristan Higgins and Susan Elizabeth Phillips, Jen Lancaster's sarcastic memoirs, and pretty much anything by Susanna Kearsley.
The two new authors who I'm particularly excited about are Simone St. James, who writes haunting, 1920s set novels of the supernatural, and Beatriz Williams, who writes a combo of contemporary and historical women's fiction.
3. What are three novels everyone should read and why?
My automatic knee-jerk response is to say that there are no three novels that everyone should read; to quote an oft-quoted passage from Emerson, there is creative reading as well as creative writing, so one person's best-beloved book will be another's wall-banger.
That being said, as I've procrastinated on various blogs and websites, including my own, I've noticed that we do, as readers, tend to cluster around certain books. It's a phenomenon that Sarah of Smart Bitches Trashy Books calls the "ahhhh", the happy noise a reader makes when another reader mentions a beloved book. I've noticed that there are a group of us who seem to have come of age with L.M. Montgomery (not just the Anne books, but Emily and The Blue Castle, as well), with Mary Stewart's romantic suspense (Nine Coaches Waiting, I'm looking at you!), and young adult fantasy like Robin McKinley's The Blue Sword. Of course, that's a very inadequate list of three: I'd have to also put in Jane Austen (and we can debate which one), Margaret Mitchell's Gone With the Wind, and, books like Evelyn Waugh'sBrideshead Revisited.
Which, I guess, brings me back to the impossibility of picking three novels that serve the same purpose for everyone…. I can't even pick three just for me!