Reply
Thread Options
Mark Thread as New

Mark Thread as Read

Float this Thread to the Top

Bookmark

Subscribe
Contributor

Posts: 5
Concealed: A new take on Djinn & Guardian Angel Lore
Options
Mark Message as New

Bookmark

Subscribe

E-mail this Message to a Friend
‎11-11-2012 02:14 PM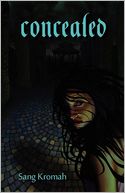 Concealed is an extraordinarily epic tale that introduces readers to a new thing to fear, the Djinn, and to a narrator with a new kind of voice.
With the release of the second novel in the Concealed series swiftly approaching, the author wants to give new audiences a chance to delve into the world of Concealed before Folon, which means the past in the Mandingo language, hits bookstores this winter.
Some believe that at birth, we're each born with some sort of guardian angel attached to us, watching from afar, but never seen by the human eye. But they're wrong. Truth is, it's not that simple. There are certain people—special people—born of this world and of the other, who need that extra protection…that extra guidance. They go their entire lives unaware other world, and unaware of the existence of their own person watcher that watches from afar. But what happens when fate takes a turn for the worst, and The One who needs the aid of a watcher more than anyone before her can't be found to be protected?
Bijou Fitzroy is strange. With the chaotic and unwanted gift of being an empath, she has spent her entire life as a sheltered recluse, being home-schooled by her secretive and overprotective grandmother, who never stays long enough in any location for Bijou to ever settle and make friends. Not only does she lack social skills, but her physical appearance is so ethereal that it beckons onlookers to look away before she has he chance to make eye contact. Oh, and it gets even weirder. Besides the occasional tendency to see strange things that no one else seems to notice, sixteen-year-old Bijou has been plagued by semi-prophetic nightmares of strange creatures her entire life; yet she yearns for sleep, because it's the only place she gets to see him…well, sort of. No matter what Bijou dreams of, the faceless boy is always there like some sort of harbinger of impending danger; always watching, always waiting. And even though his coming always pre-empts chaos, she's fallen in love with this boy without a face.
When Bijou and her grandmother move to Eldersburg, and she starts to attend the local high school, she meets Sebastian Sinjin, a strange boy, who forces Bijou to question the world around her, and the grandmother she though she knew. Bijou's world begins to crumble as the creatures from her nightmares begin to take shape in her reality, the faceless boy becomes real, and town locals begin to disappear as she finds herself at the center of a war, she never knew was being fought. Bijou has to stand alone, and be the savior everyone expects her to be.