Blog Options
Mark all Messages as New

Mark all Messages as Read

Float this Board to the Top

Subscribe

Bookmark

Invite a Friend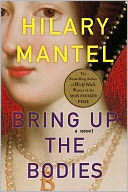 Few historical characters are as enchanting as Anne Boleyn—the controversial queen whose exploits inspired dozens of fictional explorations.
Now Hilary Mantel—winner of the Booker Prize for Wolf Hall (available for $4.99 for a limited time)—turns her considerable talents to revisiting the end of Boleyn's life in the sequel, Bring Up the Bodies, available for pre-order now. When King Henry VIII threw aside his queen in order to marry Boleyn, the scandal set in motion one of the most tumultuous periods of English history. So when the irascible Henry becomes disenchanted with Boleyn, her own life turns chaotic. Soon she's facing a trial for adultery and treason, and her powerful family joins her in a fight for her life—a pivotal event that would help set the English Reformation in motion.
Fans of the fascinating history of Tudor England will delight in Mantel's lush and evocative fictionalization.
NOOK owners: go to shop and search for "Hilary Mantel" to download her impressive historical novels.
Read more...
3539 views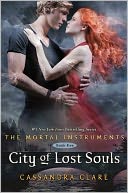 Cassandra Clare's Mortal Instruments series is one of today's most innovative and exciting young adult sagas–as beloved by critics as it is by the readers who have made each new book's release a monumental occasion.
The newest book, City of Lost Souls, releases May 8, and if you've had the pleasure of reading the first 4 novels—whether you're a young adult or a regular old adult who appreciates good writing—you'll want to mark your calendar now.
The exact details of the new book are being kept under wraps for now (you can read a bit more about it here), but we've been assured you can expect love, blood, betrayal and revenge. So if you're a longtime fan who's eagerly awaiting City of Lost Souls—add it to your wish list now. But if you haven't yet had the pleasure of exploring the world of Cassandra Clare's dark urban fantasies, start with City of Bones now, and you just may tear through them so quickly you'll be ready for book five by May 8!
NOOK owners: go to shop and search for "Cassandra Clare" to download her spellbinding series.
Read more...
3391 views
With books—as in life—anticipation is half the fun. Waiting days, months, years (we're looking at you, George R.R. Martin) for your favorite author's next book helps build excitement until publication day.
With that in mind, here are some upcoming NOOK Books that we can't wait to read—perfect titles to pre-order now.
NOOK-reader favorite H.P. Mallory is back with a new paranormal romance featuring the sassy, self-deprecating witch Jolie Wilkins:
Witchful Thinking.
Jolie thinks she's seen it all, but life continues to spring surprises. The latest shocker? She's just been crowned Queen of the Underworld. Jolie may possess a rare gift for reanimating the dead, but she doesn't know the first thing about governing disparate factions of supernatural creatures. She can barely maintain order in her own chaotic personal life, which is heading into a romantic tailspin. Jolie's adventures continue on February 28!
Theodore Roosevelt is a biographer's dream—hence, the many fascinating books that have explored every aspect of his life. In
Island of Vice
, available March 13, author Richard Zacks highlights Roosevelt's adventures as the quixotic police commissioner of New York City.
When a young Roosevelt was appointed commissioner, he had the astounding gall to try to shut down the prevalent brothels, gambling joints, and after-hours saloons. This is the story of how TR took on Manhattan vice . . . and vice won.
Fans of ancient mythology will be captivated by
The Song of Achilles
, on-sale April 3 . Built on the groundwork of the Iliad, Madeline Miller's page-turning, profoundly moving, and blisteringly paced retelling of the epic Trojan War marks the launch of a dazzling career.
Patroclus, an awkward young prince, has been exiled to the kingdom of Phthia to be raised in the shadow of King Peleus and his golden son, Achilles. "The best of all the Greeks"—strong, beautiful, and the child of a goddess—Achilles is everything the shamed Patroclus is not. Yet despite their differences, the boys become steadfast companions. Their bond deepens as they grow into young men and become skilled in the arts of war and medicine—much to the displeasure and the fury of Achilles' mother, Thetis, a cruel sea goddess with a hatred of mortals.
When word comes that Helen of Sparta has been kidnapped, the men of Greece, bound by blood and oath, must lay siege to Troy in her name. Seduced by the promise of a glorious destiny, Achilles joins their cause, and torn between love and fear for his friend, Patroclus follows. Little do they know that the Fates will test them both as never before and demand a terrible sacrifice.
NOOK owners: go to shop and search by author name to pre-order these highly-anticipated titles.
Read more...
5402 views