Blog Options
Mark all Messages as New

Mark all Messages as Read

Float this Board to the Top

Subscribe

Bookmark

Invite a Friend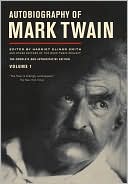 Twain wrote, "A person who won't read has no advantage over one who can't read" and if you fail to download the first volume of his bestselling autobiography, you'll be the one facing a severe disadvantage.
Published – by Twain's design! – to commemorate the 100th anniversary of his death, the musings gathered here run the gamut from hilarious to hell-bent and touch on everything from his early life on the Mississippi to the timeless prose that made him "the father of American Literature."
Twain also wrote, "Action speaks louder than words but not nearly as often" and his autobiography speaks volumes.
NOOK owners: go to shop, and search "Mark Twain" for a list of his NOOKbooks.
Read more...
1995 views
Categories:
Father of American Literature