Blog Options
Mark all Messages as New

Mark all Messages as Read

Float this Board to the Top

Subscribe

Bookmark

Invite a Friend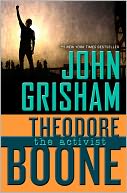 One of my favorite things about childhood summer break was the chance to catch up on all the 'fun' reading that I had put aside all year long. Summers meant spending time with old favorites like
Encyclopedia Brown
and
The Hardy Boys
—mystery and adventure tales that appealed to my inner sleuth.
While those books still appeal to young readers today, there's a new kid on the block: John Grisham's Theodore Boone, kid lawyer. In his latest caper, The Activist, Theodore digs deeper into his town's heated political battle over environmental issues and uncovers corruption that could change everything. The kid lawyer won't stop until justice is served.
I hope this smartly-told page-turner will bring the same enjoyment to young readers this summer that my favorite series brought to me.
Read more...
1762 views