Thread Options
Mark as New

Mark as Read

Bookmark

Subscribe

Email to a Friend
Can you spell "Þorskalýsi"? In English? Would you transliterate it or translate it, and what's the difference? With some languages, before we even think about grammar, we need to think about the basics: the alphabet. My recent trip to Iceland provided a good opportunity to think about the issue.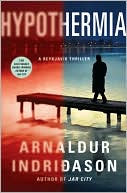 I made sure to get to a bookstore in Reykjavík while I was there, to pick up a few new books by one of my favorite Icelandic authors, Arnaldur Indriðason. Indriðason has been writing wonderful, deep, dark, emotionally sensitive thrillers, starting with Jar City (Reykjavík Thriller Series #1) , which became a compelling movie, released in 2006. The latest to be released in the US is Hypothermia, which I am looking forward to snuggling in with one cold Sunday afternoon. The rest of the series is fabulous as well.
Seeing so many of his books in translation and so many signs around Iceland, with its 32-letter alphabet, made me think about diacritical marks, foreign alphabets, and how they are treated in English. And every morning as I had a shot of Þorskalýsi, I wondered how I'd describe that to folks back home.
The Icelandic alphabet, as Wikipedia concisely notes, "includes the character eth Ðð and the runic letter thorn Þþ. Ææ and Öö are considered letters in their own right and not a ligature or diacritical version of their respective letters."
Aside from the thrill of thinking about runic letters, I thought about whether I would best express "Þorskalýsi" in English as thorskalisi, or just as cod liver oil, wihch is what it is. (Chock full of vitamins D & E, too, and very good for you.)
I never once saw "thorskalisi," and I don't think I'd do that in English. But in other languages, especially with proper names, we do it all the time. To my delight, I saw a statue labeled Pallas Athena and then Παλλάς Άθήνη and then Pallas Aþena in downtown Reykjavík.
Even the Jar City thriller author's name is treated differently in English (perhaps depending on whether the writer knows how to create or cut and paste diacritical marks?) While some books and sites refer to him in English as Indridason, others use the Icelandic spelling, Indriðason.
What's the "right" way to treat foreign alphabets in English? The best guide is probably the trusty The Chicago Manual of Style, 16th Edition. Formerly, before computer typesetting brought an explosion of available fonts, we editors couldn't even use capital letters with diacritical marks; they didn't exist in the character set of the Roman alphabet for most fonts. There were several fonts with character sets that didn't include any diacritical marks or foreign letters at all and most certainly weren't capable of reproducing Icelandic runic characters. Now there are, as close as our keyboards. That doesn't mean it's good usage to use them willy-nilly in text just because we can.
The prime directive is always clarity for the reader and audience. It's not great usage to drop a few runes or lambdas or etas into text without any warning or explanation to the reader. But with some preparation, and in academic writing, they certainly have their place. So with that in mind, enjoy the profusion of alphabets we humans have come up with — it's a big world out there, with a lot of great letters in it!
Have you ever seen runes? What fantasy classic uses runes in its frontispiece? Let's see who knows! And a skol! with cod liver oil to those who do.
Ellen Scordato has 25 years' book publishing experience as an editor, copy editor, proofreader, and managing editor. She's now a partner in The Stonesong Press, a nonfiction book producer and agency. In addition to her work at Stonesong, Ellen has taught grammar, punctuation, and style at the New School for more than 12 years in the English Language Studies department and taught English as a Second Language at Cabrini Immigrant Services.
Permalink