Thread Options
Mark as New

Mark as Read

Bookmark

Subscribe

Email to a Friend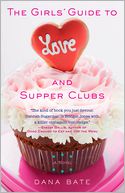 Dana Bate, the author of the fun and delicious book,
The Girls' Guide to Love and Supper Clubs, (February 5)
chats with us about everything from what she'd still change about her novel if she could to why she can't reveal her favorite passage!
Lisa Steinke: What about your novel makes you the most proud?
Dana Bate: I love that I was able to create a main character with whom so many people seem to identify. Hannah was a character who almost wrote herself, and as she developed, I kept thinking how much she felt like someone I could know in real life. I'm thrilled that many readers seem to feel the same way.
LS: For whom would your novel be the perfect gift for Valentine's Day?
DB: Anyone who loves food or romantic comedies – or, even better, both!
LS: When you re-read your novel now, do you still see things you'd change?
DB: Oh, absolutely. I think most authors do. Legend has it that people would find Henry James in bookshops, penciling corrections into his published works. I have no idea whether or not this legend is actually true, but I certainly understand the temptation to do something like that.
LS: Which books served as a guide to you while you wrote your novel?
DB: I'm regularly inspired by the writings of Jennifer Weiner, Nick Hornby, Jonathan Tropper, Sophie Kinsella, Lolly Winston, and Sarah Pekkanen, all of whom portray relationships and family dynamics in a way that is both thoughtful and humorous.
LS: How did you come up with the title of your book?
DB: Interesting question! My original title was actually The Dupont Circle Supper Club, which I loved, but both my US and UK publishers felt that title was too specific – either too specific to Washington, DC or too specific to America. But both publishers agreed they wanted to keep "supper club" in the title, since the supper club is such a central part of the book. So, in the end, the US publishers went with The Girls' Guide to Love and Supper Clubs, and the UK publisher went with The Secret Supper Club. It's so interesting to see what works in different markets.
LS: If you could see one person alive or deceased reading your book, who would it be?
DB: Nora Ephron. She was the queen of the romantic comedy. We lost such a great talent when she passed.
LS: What's the best compliment you've received about your book?
DB: Those who have enjoyed the book so far have been so lovely and generous with their praise, and I'm thankful for all of it! But one compliment that really resonated was from a teacher in the UK, who said the book struck a chord because she sees so many of her students trying to conform to their parents' expectations. Reading that, I felt as if she really "got" my book, beyond the food and humor.
LS: Favorite line or passage from your book?
DB: Unfortunately, neither my favorite line nor my favorite passage is fit for print here. My favorite one-liner involves some…ahem…profanity, and my favorite passage is the very last one in the book!
LS: What's the last book you read and the next book you plan to read?
DB: I'm lucky enough to be a part of The Debutante Ball, a web site for debut authors, now in its seventh season. The best part of the gig? Reading each other's books, several of which are genres I haven't read much or any of before. I just finished Kerry Schafer's debut, Between, which was my first foray into urban fantasy, and next up is Amy Sue Nathan's debut, The Glass Wives.
LS: What's up next for you?
DB: I am about to send my agent my second book, so I hope to have exciting news on that front soon!
To read more about Dana Bate, visit her website.
Thanks, Dana!
Permalink