Thread Options
Mark as New

Mark as Read

Bookmark

Subscribe

Email to a Friend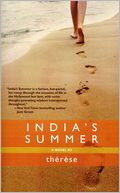 When I read that everyone from Jane Green to Goldie Hawn to Orlando Bloom was raving about
India's Summer
by Therese, I was intrigued (that's a wide range of talented people). And once I got my copy, I quickly realized why anyone would love this book. I read it cover-to-cover in one day flat. I highly recommend this truly inspiring novel.
(Therese will be happy to know I chose the word inspiring to describe her book- see her interview below.)
10 Questions for Therese
Lisa Steinke: What three words would you use to describe your book?
Therese: Fast-paced, entertaining, surprising.

LS: What is your favorite thing about your book?
Therese: The female characters, how they support each other and what they learn along the way about change.

LS: What was your high point while writing your book?
Therese: The breakthrough moment when I knew that the story was writing itself; the characters developed depth and I knew I had their authentic voices.

LS: How did you come up with the title of your book?
Therese: I always loved the name 'India.' It captures a spirit. The story is about her summer visit to LA and it runs past Labor day into fall and the dry heat of an Indian Summer.

LS: What are you reading now? What's up next?
Therese: Old Filth by Jane Gardam. I love character driven novels where you hear their internal dialogue and become intimate with the foibles and fears of the protagonist.

LS: If you could see one person, alive or dead, reading your book, who would it be?
Therese: The young Elvis Presley, but I'd get him to put the book down fast so we could get on with other things!

LS: What's the best compliment you've received about your book?
Therese: I was so into it that I missed my stop on the subway.

LS: What's the #1 thing you want people to feel after reading your book?
Therese: Inspired.

LS: Favorite line or passage from your book?
Therese: If you can't do it in high heels I'm not interested.

LS: Are you working on your next novel? If so, any hints?
Therese: Yes. It's a sequel set between LA, London and Paris.
Thanks, Therese!
To read more about Therese, visit her website.
Permalink