Thread Options
Mark as New

Mark as Read

Bookmark

Subscribe

Email to a Friend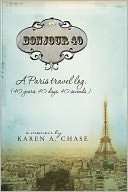 I love Paris. I love memoirs. I love to read.
Bonjour 40: A Paris Travel Log (40 Years. 40 Days. 40 Seconds.)
by Karen A. Chase is the perfect combination of my three loves. This mid-life memoir about Karen's decision to spend her fortieth birthday in Paris is not only a delicious read, but it's full of stunning photographs of the city of lights (Karen's also a photographer).
I haven't traveled to Paris in several years. But as I read page after page of Karen's travel log (each chapter is devoted to one of her forty days planning for or visiting Paris) I was transported there again, sitting in the cafes, walking the cobblestone streets, taking in the sites. And I also couldn't help but relate to turning 40 as that birthday looms. (It's a year and five months from now, but who's counting!)
Upon finishing her humorous and incredibly fulfilling memoir, I invited Karen A. Chase to be my guest here at B&N. Her interview is below, but first, here's more about Bonjour 40.
Synopsis of Bonjour 40
: If Karen A. Chase absolutely had to turn 40, she decided she could do it gracefully in Paris… for nearly 40 days. What began as a blog to communicate with friends and family, became a travel journal filled with over a months' worth of daily humorous, insightful, and detailed glimpses into her Paris adventures, each of which could be read in about 40 seconds.Peppered with Chase's own delightful photographs, she also weaves in longer stories that reflect upon her experiences with the French, food, travel,photography, writing and love in the City of Lights.
Bonjour 40
is currenlty
available for your NOOK for only $4.99!
My interview with Karen A. Chase...
1. What is your favorite thing about your book?
That it's so positive. So many travel essays by women are about these journeys they make after they have suffered through terrible divorces, or life-altering moments that were sad. This book is about me feeling happy, being in a good place in my life, and then making the decision to really embrace an event (turning 40) with a travel adventure I had longed to do.
2. What was your highest point while writing your book? Your lowest?
Seeing the book completed was such a high point for two reasons: I had finished a whole book that was actually going to be published, and I had a detailed journal of what I had done as I turned 40. Now I can always look back on it and find inspiration to set off and do other things even more adventurous. I suppose my lowest point was staring at the to-do list to prepare it for publication after the book was completed. That long list meant I would have to dedicate less time to writing on my next book for a while.
3. How did you come up with the title of your book?
Before my trip to Paris for my 40th, I was searching for a name for the blog. I was having dinner with my friend Kelly, and told her what I was doing. Later that night she emailed me and suggested calling the blog Bonjour 40! It was so fitting. It wasn't just a blog about going to Paris; it was about embracing turning 40 in a fun way. When the blog developed into the book, it seemed natural to keep the name. The subtitle came from the whole experience. 40 years old. 40 days in Paris. With journal entries that could be read in about 40 seconds.
4. If you could see one famous person (living or dead) reading your book, who would it be?
Maybe Lafayette. To have him read about his own city from the perspective of a female, Canadian, DAR, American alien touring Paris in 2011 would be kind of interesting. I also love the idea of him laughing so hard as he's reading the section about my bedroom pillow that he spits wine out his nose. It makes him seem more real.
5. What is the last book you read? What is the next book you want to read?
Bossypants by Tina Fey. She has a short chapter on turning 40 and needing to take her pants off when she gets home that is so perfect. My next book is The Spanish Bow by Andromeda Romano-Lax. I'm in a book and supper club with my neighbors and we're reading it and trying new recipes for a Spanish Tapas dinner.
6. What's the best compliment you've received about your book?
A very well read friend of mine who has traveled extensively wrote to me saying, "You've found your voice. This reads with the same pleasing, conversational, witty, engaging lope of Bill Bryson and Paul Theroux."
7. What is the #1 thing you want people to feel after reading your book?
As Liz Lemon on 30 Rock would say, "I want to go to there." To Paris. To turning 40 in a fun way. To embracing life. To being open to being inspired. To really becoming independent women (unless they're a man, then I hope they want independent women).
8. Describe your book in three words.
Joie de vivre. (Joy of life.)
9. Nook or Book?
It's on Nook (for now). I'm hoping to be part of what I see as the new trend in publishing: Publish an e-book, then paperback, then hardcover or special edition for readers really craving more. As far as what I prefer to read, I prefer to read the written word. It doesn't matter the media. I love carrying twenty or more books in a single e-reader, but I do love the feeling of intimacy a paper book provides.
10. Are you working on another book? If so, any hints?
A couple, yes. My main focus is on an historical fiction novel about the Declaration of Independence. I'm working with an editor now on that one. My partner, Ted, turns 60 next year, so we're planning a trip to Italy, so Ciao 60 will follow Bonjour 40. I also have a journal full of other book ideas, so my writing room sometimes feels pretty full with all these characters wandering around vying for my attention. There are so many. It's time to turn back to the words…
Looking forward to Ciao 60, Karen!
For more information about Karen A. Chase, visit her website. And be sure to download Bonjour 40 here!
Permalink