Thread Options
Mark as New

Mark as Read

Bookmark

Subscribe

Email to a Friend
As you know by now, I love me a good memoir. (I might even be guilty of using the term "memoir whore" on more than one occasion.) Especially the kind that read like good fiction. You know, when you have to keep stopping and reminding yourself that these things actually happened to the author.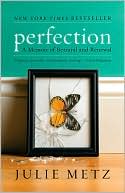 Which is exactly what I did as I read
Perfection
by Julie Metz.
Julie's life changed forever when her husband collapsed in her kitchen and died in her arms, leaving her a single mother in a small town. But that was only the beginning-she soon began to find out that he had hidden another life from her. Her narrative is honest and insightful, her storytelling pitch perfect. And as we did many times, you'll wonder what the hell you'd do if it had happened to you. You'll cheer for Julie as she begins to pick up the pieces of her broken life and rebuild.
But don't just take my word for it-Perfection quickly became a New York Times bestseller upon it's release. And Oprah thought Julie's story was so compelling that she invited her to be a guest on her show.
And today, Julie has graciously accepted an invitation to be our guest and answer questions about her book and a few other things...
Lisa Steinke: What three words would you use to describe your book?
Julie Metz: Intense, honest, powerful.
LS: What's one word to describe how a reader will feel when he/she finishes the book?
JM: Inspired (to move forward in your life)!
LS: How did you feel when you finished writing your book?
JM: Relieved… It was the work of several years.
LS: Your book is so honest. How did you feel when those close to you/those who knew the story began to read it?
JM: One thing that happens in writing a memoir is that during the process of writing and sifting and rewriting and editing a good deal of time passes. You change—you are no longer that person who experienced the events you are writing about. You have become a character in a piece of writing and so have all the other characters. By the time my book appeared in print, over five years had passed, for me and for the people who knew some of my story. Some of those readers learned things about me they hadn't known during the time of crisis in my life. I was nervous at first when the book first came out, but the reaction has been overwhelmingly positive.
LS: Was your book hard to edit once it was in the hands of an editor? Did very much hit the cutting room floor?
JM: I had a wonderful, very hands-on editor. The experience was collaborative and challenging but completely positive…and yes, about 100 pages hit the cutting room floor! A great editor is a writer's best friend.
LS: Book or Nook?
JM: I will admit to being a late adopter, so no Nook yet. But I love my laptop and my phone, so I am sure I'll try one eventually. For now, I still love the feel and smell of ink on paper.
LS: What's your guilty pleasure?
JM: Chocolate. I eat a bit of chocolate every day. Actually, I don't feel guilty about it. Life is too short for that!
LS: What's one thing your readers don't know about you?
JM: How much time I spend at home and how much of that time is spent in some version of pajamas.
LS: Where is your favorite place in the world?
JM: I haven't seen enough of the world to be sure…but all the places I have loved fiercely are near the sea. One place where I feel at peace and surrounded by natural beauty is a small island in Maine, described in a section of my book. But Brooklyn is pretty wonderful too.
LS: Are you planning to write another book? If so, any hints as to what it's about?
JM: I am working on a novel. I shouldn't say too much, I worry that I will jinx myself. But it's based on a scenario that came up in a conversation with a friend. Ask me again in a year…I may be closer to the end!
Well, I personally cannot wait for Julie's next book! To find out more about the lovely and talented Julie Metz, visit her website.
Permalink