Thread Options
Mark as New

Mark as Read

Bookmark

Subscribe

Email to a Friend

This week we continue our project of covering some of the numerous non-fiction works currently available in stores and online from Barnes & Noble's three-for-the-price-of-two offer. The overall selection this week differs from last week's—some books have been removed and others added—but overall readers will still find a range of non-fiction from "serious" history (Edmund Morris' Theodore Rex and Joseph Ellis' Founding Brothers) to lighter fare, like a biography of Eric Clapton.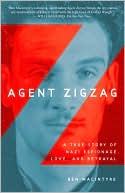 Today we turn to Ben Macintyre's Agent Zigzag, a look at one of the scruffier heroes of WWII and one of the less-taught stories of British intelligence. The agent in question is Eddie Chapman, a career thief, blackmailer, con artist and safecracker with, evidently, a totally inert moral compass. When the German Army captures Britain's Channel Islands, he is found languishing in an English jail. The Germans, seeking to capitalize on his seeming amorality, train him as a spy and smuggle him back onto English soil. The twist comes when Chapman immediately identifies himself to British authorities, describes his mission and offers to act as a double agent for British intelligence.
Here the adventure begins. Chapman has no reason to pledge himself to British interests; if anything, it's kind of a mystery it happens at all. He seems to have made this one moral decision in his life and, having done so, exhausted his ability to make another again. Still, with the help of British intelligence's strategic deception, he is able to fake his sabotage of a de Havilland bomber factory, leave the country, and sneak back to Germany via Portugal.

Chapman plots to assassinate Hitler, but the plan comes to nought. Later, he is posted to Nazi-occupied Norway and used by the British to misdirect the targeting of Germany's V1 and V2 rockets. British intelligence supplied him with coordinates that marked significantly less populated areas, which he turned over to the Germans and confirmed as having hit buildings of strategic and tactical significance. Finally, Chapman waits for the end of the war, feeding the German army tactically worthless intelligence.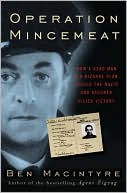 Like Macintyre's new book, Operation Mincemeat, this book is both accurate and exciting. (Some readers might find recounted dinners, falsified paperwork, and misleading telegrams something short of exciting, but that might be owed to more of a Jason Bourne/James Bond interest in secret agents. Fans of the le Carré breed of intelligence operative will find themselves right at home.) It tells a story of the war not widely known outside the realms of armchair (and accredited) experts in intelligence and war, and it puts a welcome face on part of the war. Put simply, many of the people who won the Second World War were jerks, scoundrels, drunks, boors, or borderline criminals. It's nice to be reminded that, all talk of Greatest Generations aside, humanity has always had its raffish elements, even in its finest hour.
This scuzzy underbelly of the war supplies a lot of the tension in the book. Nobody trusts Chapman, and it's easy to see why; anyone who'd read his file would find it difficult to believe his sincerity about practically anything. On the one hand, this mistrust is exciting: "Will the German's find him out? Do they know he's a British agent now?" But it can also be frustrating: "Why don't his British handlers trust him more and give him bigger things to do?" or, alternately, "How do they trust him at all?"

It's a shame that Macintyre doesn't explore these questions a little more, beyond adding atmosphere to meetings and exchanges that at the time were mired in doubt and a sense of treachery. Because part of what made Chapman effective was exactly the same thing that made him ineffective. The ease with which he became a double agent gave rise to his handlers' fears that he just as easily could have been a triple agent. Those fears thus prevented his being designated for more critical assignments.

Moreover, this fog of uncertainty defines spycraft for the whole of the war, not just Chapman's, and points up where doubt creeps in to the narrative itself. We want to make Chapman a master of his own fate; we want to see his story have definite agency and meaning, and because of that we read intent and determinism into the events that surround him.

In one real and very concrete example, it means that we want to believe a V2 rocket striking an empty field was sent there because British intelligence gave Chapman coordinates to an empty field, because Chapman gave them to the Germans, and because the Germans believed Chapman and used them. That creates in our minds a hard chain of cause and effect. We can point to it and say, "Look what good spycraft did. It helped save lives." But these interpretations rely on human determinism and ignore technical things like the weapons' imperfect accuracy and very very basic things, like weather. It's not hard to see why we do it. The weather isn't a sexy story, and it doesn't make us feel good.

These kinds of questions permeate all intelligence narratives, however, and they do nothing to detract from the accuracy of Macintyre's book. All stories about spies ultimately have to make a decision to believe some things and not others, to push back doubt and say that A caused B in some cases, and in others to chalk things up to happenstance. It's possible that at times Macintyre assigns a little more credit to Chapman because he is the focus of his story, but partisanship of some type is to be expected, when causation has to be interpreted or assumed and can't be pinned down definitely.

Regardless, this book should appeal to a wide range of readers, from lovers of le Carré's spy stories to war buffs looking for slightly lighter fare. Eddie Chapman isn't a lovable character, but there is something lovable and authentic about his unlovability. He reminds us that war attracts all types and that sometimes acts of heroism occur in a moral fog. The trouble with these types is that you can't trust them, until you need to, and even then you still can't trust them. The tension surrounding his interactions with his handlers in Germany and Britain, as well as the interpretive uncertainty Macintyre faces as a historian, still speak to that.
Permalink