Thread Options
Mark as New

Mark as Read

Bookmark

Subscribe

Email to a Friend
Alison Bechdel is forever burdened and gifted by time. How so? Her stunning graphic memoir Fun Home: A Family Tragicomic was named best book of 2006 by TIME Magazine, raising the inevitable question: What's next? Are You My Mother? is the answer. Which brought to mind: What is inevitable about questions? How we make them in English, that's what. How do we make questions, anyway, from a grammar and syntax point of view?
The beautifully written and gorgeously drawn Fun Home explored Bechdel's childhood growing up in a funeral home and the suicide of Bechdel's closeted gay father. Created with courage, humor, and a masterful command not only of the drawn line but also of the word, Fun Home justly attracted awards, attention, and a legion of fans outside the usual comic/graphic novel readership.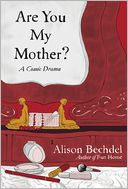 Are You My Mother? explores Bechdel's relationship with her talented, creative, and unaffectionate mother throughout her childhood and beyond. She returns to her childhood, recalling how her mother stopped touching her--ending even their traditional kiss goodnight--when Bechdel was seven.
But this is no rehash of material covered in Fun Home; here, Bechdel works in the insights she gained working with analysts and psychologists, especially referring to the work of famed British child psychoanalyst Donald Winnicott and others, and because her mother is still alive, Bechdel is able to weave in tales of their often prickly relationship as adults.
Of course I want to read this one; I'm a big fan of Bechdel's earlier work, including the classic alt-weekly comic strip "Dykes to Watch Out For." And of course I want to read it because the title is the same as one of my childhood favorites: P. D. Eastman's
¿Eres mi mamá? (Are You My Mother?) in the Cat in the Hat "I Can Read It All by Myself" series.
Please note, per the image here, that as a child for some reason I had a copy of this classic only en español. This is true. The only copy I had was the Spanish version, and it was the only Spanish-language book in the house, a state of affairs that remains inexplicable but dear to my heart nonetheless.
This brings us to the grammar part of this issue. Look at the Spanish version and the English version. The Spanish version starts with an upside-down question mark, for one thing, and the first word is "Eres (You are)". It could very easily be read as "You are my mama" from the word order--perhaps that is why the language uses a punctuation mark at the very beginning, to signal that it's a question. But English doesn't do that. The word order in "Are you my mother?" and "You are my mother" signals that it is a question from the very first word.
How do we construct questions in English? There are two types: Yes/No (y/n) questions and When/Where/What/Why/How (Wh-) questions. Here we are looking at simple y/n questions, which are created by inverting the word order in verbs.
Most English verbs are expressed as two or more words. This seems surprising: What about ran and run, make and made? Yes, but what about was running, is running, had been running, could be running, and might be running? What about will make, did make, and have made? Most English verbs consist of two or more words, the main verb and an auxiliary such as be/have/can/may/ and so on.
To make y/n questions, we move the auxiliary verb to become the first word in the sentence and place the subject second. Consider our example:
1. You
2. Are
3. My
4. Mother.
Move the auxiliary verb to the first spot and place the subject in the second spot.
1. Are
2. You
3. My
4. Mother?
Voilá! We have a y/n question.
What happens when we have a sentence such as
1. She
2. Looks.
It's got a one-word verb! What do we do!
The trusty sort-of-auxilliary verb do leaps in! When a verb is expressed as one word, and we create a y/n question, we supply do, does, or did as the other part of the verb.
Thus,
1. Does
2. She
3. Look?
Whew! Enough syntax, lest our brain hurt. Perhaps it's time to look at some pictures. But be warned: Alison Bechdel's pictures can make your brain--and your heart--hurt too.
Want to keep up with my reviews and all of Barnes & Noble's exclusive reviews, author interviews, videos, promotions, and more? Please follow us on Twitter: @BNBuzz!
Ellen Scordato has 25 years' book publishing experience as an editor, copy editor, proofreader, and managing editor. She's now a partner in The Stonesong Press, a nonfiction book producer and agency. In addition to her work at Stonesong, Ellen has taught grammar, punctuation, and style at the New School for more than 12 years in the English Language Studies department and taught English as a Second Language at Cabrini Immigrant Services and the College of Mount Saint Vincent Language Institute.
Permalink