Thread Options
Mark as New

Mark as Read

Bookmark

Subscribe

Email to a Friend

The Red Sox are out, the Yankees are in (again), and the 2011 playoffs begin. As another baseball season comes to a close and heads toward the World Series, I wonder, Why is it that baseball language sings so sweetly on the page? Were literature a contest, which baseball books would make my personal playoffs?
Baseball and writing: The boys of summer have arguably generated more great literature than any other professional sport. From "Casey at the Bat" to Don DeLillo's "Pafko at the Wall" (originally a Harper's article, now available on Nook) to Phil Rizzuto's incomparable O Holy Cow! to Jose Canseco's memoir Juiced to Josh Wilker's Cardboard Gods and beyond, a huge number of splendid works have taken flight from the game, soaring above the diamond like a juiced ball off the bat of a juiced Barry Bonds.
The recent literary huzzahs greeting n+1 editor Chad Harbach's first novel, The Art of Fielding,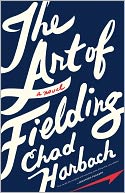 are well deserved. I'm only partway through and enjoying it greatly. It's probably going to land on my already long bookshelf of baseball books to keep and recommend. But what, I considered, are "baseball books"? It's a big field of dreams out there.
It's something about the diction: "a can of corn," "Baltimore chop," "around the horn," and something about the syntax: "
Baseball is ninety percent mental and the other half is physical," "

If the world was perfect, it wouldn't be

" (from the immortal Yogi Berra).Try to figure out the pretzel-like use of the subjunctive in that last sentence or identify the grammatical error in the first. Or don't, and just enjoy them!

Whatever it is, it works for me. I love books about baseball, whether nonfiction about the underlying economics of the game, philosophical musings on baseball and growing up, fiction about fictional statistical games, or memoirs from some of the sport's more colorful characters. Here's a list of some, but not all, of my favorites.
Ball Four by Jim Bouton. I read this 1960s pitcher's memoir of a season in the major leagues when I was around 13. I learned a lot that had nothing to do with baseball and got a very interesting view of adult male activity regarding drugs and women. 'Nuff said.
The Universal Baseball Association, Inc., J. Henry Waugh, Prop. by Robert Coover. I read this book years before I started playing Strat-o-Matic in a very strange lunchtime league in which I wound up in a playoff game against my future husband. The book, about a lonely man who devises an intricate statistical game based on dice and baseball probability, is even stranger than that story about Strat-o-Matic. And every bit as worthwhile. Wilfred Sheed's 1968 review in the New York Times gives a good overview.

Lords of the Realm by John Helyar. This nonfiction tome about how the business of baseball worked (it was published in 1995) by the Wall Street Journal writer who also wrote the bestselling Barbarians at the Gate should be required reading for anyone who complains about team owners' greed. News: It's not news.
Cardboard Gods by Josh Wilker. This novel about growing up in the '70s, sibling bonds of attraction and repulsion, alienation, love, and the ineffable transcendence of badly printed cardboard rectangles was written by a fellow Strat-o-Matic player, although he's far out of my league. I was lucky enough to interview him here last year, in a previous grammar post. We discuss the subjunctive "were," which came up in the very beginning of this post. (Can you find it?) Thus rounding the bases and returning home, I'll close this list. But it is by no means the last inning for this topic.
What are your favorite baseball books?
Want to keep up with my reviews, and all of Barnes & Noble's exclusive reviews, author interviews, videos, promotions, and more? Please follow us on Twitter: @BNBuzz!
Ellen Scordato has 25 years' book publishing experience as an editor, copy editor, proofreader, and managing editor. She's now a partner in The Stonesong Press, a nonfiction book producer and agency. In addition to her work at Stonesong, Ellen has taught grammar, punctuation, and style at the New School for more than 12 years in the English Language Studies department and taught English as a Second Language at Cabrini Immigrant Services.



Permalink