Thread Options
Mark as New

Mark as Read

Bookmark

Subscribe

Email to a Friend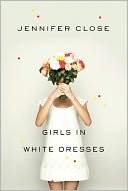 Happy August! It's the first day of a new month. A chance for fresh starts, new beginnings and clean slates. And a month of new arrivals by debut authors hitting the Barnes and Noble bookshelves and begging to be downloaded to our
Nooks
. And I was lucky enough to read an advance reader's copy of a fabulous debut novel by an author whose writing is so funny, sassy and smart that I'll be adding her to my
author crush
pile immediately and selecting her book as the
best debut novel of the month
.
Girls in White Dresses by Jennifer Close is one of most hilarious and best-written books I've devoured in a while. It's the story of three friends, just out of college, trying to figure out what to do with their lives, all while suffering through wedding after wedding as they watch everyone else find success in love and life. And hands down, it's my selection for the best debut novel of the month. It will be available on August 9th, but you can pre-order it from B&N now for a big discount. And if you liked the equally hilarious The Girls' Guide to Hunting and Fishing by Melissa Banks, you'll love this novel as much as I do! (But if you haven't yet read Banks, make that your next order of business!)
Synopsis of Girls in White Dresses:
Wickedly hilarious and utterly recognizable, Girls in White Dresses tells the story of three women grappling with heartbreak and career change, family pressure and new love—all while suffering through an endless round of weddings and bridal showers.
Isabella, Mary, and Lauren feel like everyone they know is getting married. On Sunday after Sunday, at bridal shower after bridal shower, they coo over toasters, collect ribbons and wrapping paper, eat minuscule sandwiches and doll-sized cakes. They wear pastel dresses and drink champagne by the case, but amid the celebration these women have their own lives to contend with: Isabella is working at a mailing-list company, dizzy with the mixed signals of a boss who claims she's on a diet but has Isabella file all morning if she forgets to bring her a chocolate muffin. Mary thinks she might cry with happiness when she finally meets a nice guy who loves his mother, only to realize he'll never love Mary quite as much. And Lauren, a waitress at a Midtown bar, swears up and down she won't fall for the sleazy bartender—a promise that his dirty blond curls and perfect vodka sodas make hard to keep.
These are the years when everyone else seems to have a plan, a great job, and an appropriate boyfriend, while Isabella has a blind date with a gay man, Mary has a crush on her boss, and Lauren has a goldfish named Willard. Through boozy family holidays and disastrous ski vacations, relationships lost to politics and relationships found in pet stores, Girls in White Dresses pulls us deep inside the circle of these friends, perfectly capturing the wild frustrations and soaring joys of modern life. 
To find out more about Jennifer Close and her debut novel of the month, Girls in White Dresses, follow her on Twitter.

Permalink