Thread Options
Mark as New

Mark as Read

Bookmark

Subscribe

Email to a Friend

Literature is not a horse race, but who can resist a sporting wager? From October 8 to 15, the Nobel Prize winners for Medicine, Physics, Chemistry + more are announced. But the hot money is on the Literature prize, to be announced later. British oddsmakers publish odds on that race! Murakami is in the lead, but who is Mo Yan? And is Bob Dylan really in the running?!
Japanese novelist and short story maestro Haruki Murakami is in the lead, with famed bookmaker Ladbroke's of London putting his odds of winning the Nobel at 3-to-1. Murakami is very well published in the United States: His short stories appear regularly in the New Yorker magazine but it's his recent blockbuster 1Q84 (which, at 944 pages practically demands to be read as a Nook book) that is making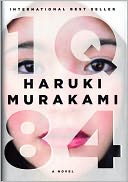 him a frontrunner.
Next place the money's going is on Mo Yan, a fascinating and extremely popular Chinese writer whose name means "don't speak". (Mo Yan is his pen name.) Yan is prolific and widely read -- as well as often banned. His outspoken work can be too frank for some Chinese government authorities, but his multilayered, multigenerational novels and short stories are full of fabulous images, sometimes graphic violence, and social commentary. "Widely read" in languages other than English, for the most part, however. The 1987 movie Red Sorghum was based on a combination of two of his novels. With titles such as Big Breasts and Wide Hips available recently, Yan should attract more English-speaking readers soon.
And then there's Bob Dylan. To the astonishment of many, his odds of winning the Nobel Prize for Literature are 10:1, the same as 84-year-old William Trevor, winner of multiple prestigious awards, including the Man Booker and Whitbread and much beloved in Britain and Ireland.
Dylan's lyrics could win for poetry, that's for sure. With more than 50 studio, live, and bootleg albums and numerous collaborations, Dylan is the voice of a generation and the creator of 60s anthems nearly every American knows, from "Blowin' in the Wind" to "Like a Rolling Stone" to "Mr. Tambourine Man."
Dylan's books, from the 1966 cult classic Tarantula to his controversial 1995 semi-memoir Chronicles, Volume One, are amazing but Nobel-worthy? Is there just a coterie of crazy Dylan fans out there, putting down the cash on their favorite every year?
Time will tell! Check the Ladbroke's odds and make your pick, but I'll warn you--if you go for long shots, Fifty Shades author E.L. James is 500/1.
Permalink