Thread Options
Mark as New

Mark as Read

Bookmark

Subscribe

Email to a Friend

Books make great movies and movies can become books--after all, good stories are good stories. Narratives that work well are pretty much media-independent. But video games? The waning decades of the 20th century brought us a whole new way to tell stories through video games. Not many have gone from console to printed page, but The Legend of Zelda is about to, in a gorgeous edition that knocked Fifty Shades out of the #1 spot on online retailers' best seller lists weeks before publication. I loved playing Zelda myself, though not perhaps as much as Link does, and waiting for The Legend of Zelda: Hyrule Historia made me wonder . . .what other games may have zapped themselves into print?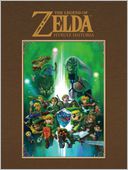 First of all, a little background. The Legend of Zelda is an iconic video game, released by Nintendo in Japan in 1986 and in the US and Europe a year later. Set originally in the fantasy land of Hyrule with a protagonist, Link, who must battle enemies, acquire magic objects, and solve puzzles on a quest to save Princess Zelda and protect the magical Triforce, the structure of the story in the game drew on any number of classic heroic fantasy quest tales as well as the real boyhood adventures of legendary game creator Shigeru Miyamoto (Donkey Kong, Super Mario Bros., et al.) in a field near his house.
I remember playing a very early text-only (!) version of Zelda in the computer lab at my alma mater, Wellesley, although it's been impossible for me to find documentation of this version (maybe it was just a quest game much like Zelda?). In any case, it was addictive. My friends and I played for hours, hogging the few monochrome monitors, as lines of square green letters and numbers scrolled down the screen like ... the Dark Ages. The lure of these game narratives is perhaps not so much the amazing graphics but also the ability of the reader/player to jump right in and change events. The outcome of the story--the plot itself--changes depending on the player/reader's actions. What heady stuff! What power! We all get to be authors, to some extent, when we pick up the Nintendo console, the PlayStation, or the Wii.
Undoubtedly, Miyamoto's genius lay behind Zelda's success, as well as the genius of the whole Nintendo team. It was a very special collection of talent, and the new book memorializes that time as well as provides readers with glimpses of just how Hyrule, Zelda, and Link came to be. Just as there are many sword-and-sorcery fantasy novels but few really good ones, there were many quest-based video games...and none captured the attention of generations of fans like Zelda did.
As the games went on being produced, new avatars, or reincarnations, of Link fought new battles in new settings. The character of Zelda herself didn't become "playable" until much later iterations of the game, and eventually, there was what seemed like a split in the narrative and the storyline became somewhat muddled in fans' minds.
That's part of the reason this book is so hotly awaited. A timeline for the series was released in Japan in 2011 and finally cleared things up for fans, and that extremely important timeline is included in this book, along with original artwork, a chronology of the different game releases, and a timeline of the story action within the world of Zelda--no wonder fans pushed this new release atop that other fantasy series, Fifty Shades, in online best seller lists!
Zelda has inspired other books, of course, including a popular series of manga by Akira Himekawa, a noted artist in the genre.
From the Ocarina of Time, Part 1 (The Legend of Zelda Series #1) to

fans just can't get enough of this fable for our times.
Thinking about Zelda made me wonder about other successful game-based titles. The only ones to come to mind are the Halo novels and graphic novels, based on the hugely influential Halo games owned by Microsoft Studios. Can you think of any others?
Permalink