Thread Options
Mark as New

Mark as Read

Bookmark

Subscribe

Email to a Friend

If you ask your average historically minded reader what he or she knows about Catherine the Great, you'll probably hear something fairly scandalous involving a horse. Good thing there was no YouTube in the 18th century.
Catherine the Great of Russia (1729-1796) has always fascinated fans of biography and European history, and she's the subject of master historian Robert Massie's latest work: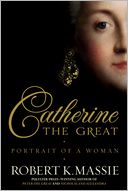 Catherine the Great. As impressive as the Empress herself, the book comes in at 656 pages, making the tome a great Nook choice for travelers; fans of giftable hardcovers should click here.
Born a minor princess in Germany, Catherine rose to rule all of Russia in the century that brought the Enlightenment, the beginnings of the Industrial Revolution, the beginnings of modern medicine, American independence, and the French Revolution to the world. She maintained a voluminous correspondence with everyone from Enlightenment philosophers Voltaire and Diderot to American naval man John Paul Jones. She wrote to Frederick the Great. She married a grandson of Peter the Great.

What a Great Life! What is it with all those "Greats"? Technically, those are epithets, often appended to monarchs' names to allow us history buffs to distinguish among the many Catherines, Fredericks, Peters and such who crowd the list of the crowned heads of Europe. The word, as its prefix gives away, comes from Ancient Greek, ἐπίθετον epitheton, referring to something attributed or added. Epithets abounded in ancient epics and royal families, applied to everything from the sea--the wine-dark sea--to unprepared Saxon kings of the 900s--Ethelred the Unready. Some were more interesting than Great; consider a daughter of Ferdinand and Isabella, Joanna the Mad, married to Philip the Handsome of Burgundy; their son became the first Holy Roman Emperor.
Fans of epithets and royal familes would do well to look at Massie's other highly acclaimed titles: in addition to biographies of Catherine the Great and Peter the Great, he's the author of the classic dual biography Nicholas and Alexandra, the story of the last Romanovs and the end of Imperial Russia, destroyed in the Russian Revolution of 1917.
Frankly, much as I love reading about Catherine, Peter, Alexander and the other greats, what I really love is reading a good historian. I propose the following epithet: Massie the Great. . .
no, Massie the Awesome!
Want to keep up with my reviews, and all of Barnes & Noble's exclusive reviews, author interviews, videos, promotions, and more? Please follow us on Twitter: @BNBuzz!
Ellen Scordato has 25 years' book publishing experience as an editor, copy editor, proofreader, and managing editor. She's now a partner in The Stonesong Press, a nonfiction book producer and agency. In addition to her work at Stonesong, Ellen has taught grammar, punctuation, and style at the New School for more than 12 years in the English Language Studies department and taught English as a Second Language at Cabrini Immigrant Services and the College of Mount Saint Vincent Language Institute.
Permalink