Thread Options
Mark as New

Mark as Read

Bookmark

Subscribe

Email to a Friend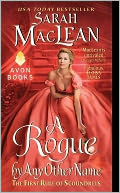 Sarah MacLean has been here before, sharing the Cover Story for Ten Ways to be Adored When Landing a Lord, and telling us about the process of romance covers that involve both a photo shoot and a painting to complete the full step-back image. She's back with a new book, a new series and a new Cover Story:
"A Rogue by Any Other Name is the first book in a new series... one that is really different than my first romance series. This series is centered around a pre-Victorian casino, and the club itself plays a huge part in the books--it's a character in itself. So when my editor asked me to give them descriptions of my hero and heroine and any ideas I had for the cover itself, I asked them to please give the book a sense of place. I wanted it to feel decadent and lush, and also enclosed. And I think the designers hit it out of the park!
"[When I first saw the cover] I thought, 'Oh, my God. She looks like a Disney princess.' And then I thought, 'Oh, my God, look at that DRESS.' And then I saw the step back (below)...and I thought, 'Oh, my. Yes.' I wasn't sure about the salmony red color to begin with, but now that I've seen it in all its beautiful pearlized, printed glory, I love it.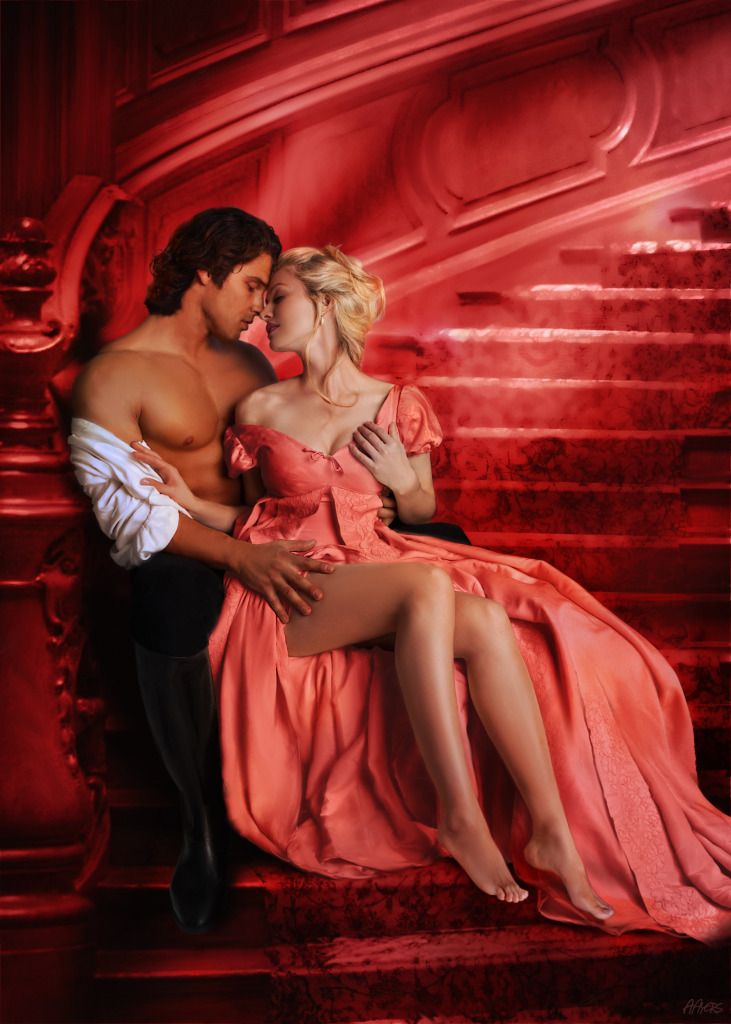 "My editor is always wonderful about asking me for feedback, but in this case, I really didn't have much except to say, this is gorgeous! The designers at Avon know their stuff...so when they deliver a cover, it's usually pitch perfect. At least, mine always have been!
"The cover is a photo shoot with a model (two for the inside stepback!) which is then worked in paint and photoshop in order to give it that historical feel. I love the style of these books (I've seen more covers in the series by now!), because the heroines are the perfect merging of historical and modern...just like I like to think my books feel.
"I'm particularly fond of the white rose in Penelope's hand...I think it was the cover artist's nod to the pun in the title of the book...and I loved it so much that I ended up writing the rose into the book to make sure that it connected perfectly."
Thanks, Sarah! I think this cover really glows, and the salmon is gorgeous--it gives off a "red" vibe without being overtly scarlet. Plus... HOT.
What do you guys think?
Want to keep up with my Cover Stories, and all of Barnes & Noble's exclusive reviews, authors interviews, videos, promotions, and more? Please follow us on Twitter: @BNBuzz!
Melissa Walker is the author of six Young Adult novels, including the Violet trilogy, Lovestruck Summer, Small Town Sinners and the upcoming Unbreak My Heart. She is co-creator of the popular teen newsletter I Heart Daily and the awkward-stage blog Before You Were Hot, as well as the blogger for readergirlz.com. Her author blog, where Cover Stories originated, is melissacwalker.com. Follow her on Twitter @melissacwalker.
Permalink