Thread Options
Mark as New

Mark as Read

Bookmark

Subscribe

Email to a Friend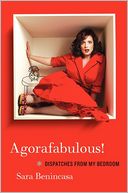 Sara Benincasa appears on the cover of her memoir, Agorafabulous!, which Kirkus Reviews calls "A blisteringly funny yet affecting debut memoir...Fabulously quirky and outrageous." Just like that red, red cover. Here's Sara to tell the tale:
"I'm on the cover of my book, which is kind of wacky! I mean, it's amazing and an honor, but also a little scary. My first reaction when my editor, Cassie Jones at William Morrow, suggested it was, 'But I'm not famous enough to sell books.' She explained that fame wasn't the point, and I came to understand that a picture of me – a regular girl – might help sell the book by being super-relatable. In my opinion, I'm about a 6 on the scale of 1 (total uggo) to 10 (total babe), so it's not like my supermodel good looks are going to threaten anyone. Nor am I a hag, so hopefully the cover won't induce vomiting or, you know, night terrors.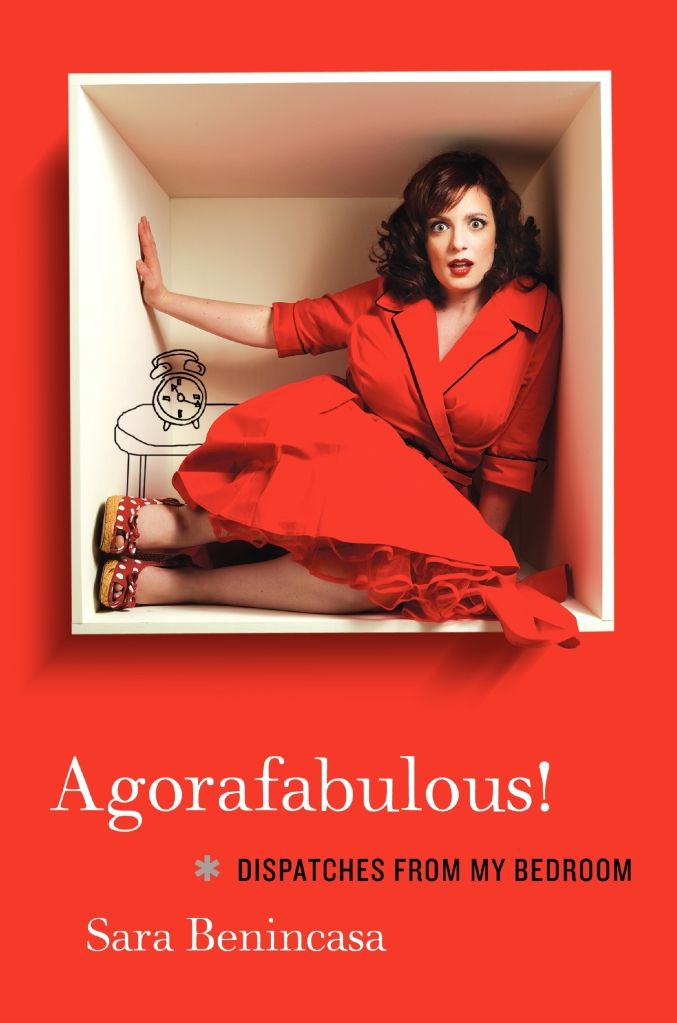 "Then the designer at HarperCollins said she wanted to try to put me in a box on the cover of my book, to illustrate the fact that my book is about my struggle with agoraphobia, a fear of open spaces and crowds. I thought, 'Um…okay, let's do it!' I'm sufficiently aware of my own lack of artistic sensibility, and I generally trust artists and the visually-inclined to make better choices than I otherwise would. Of course, I wondered how exactly we'd go about getting me in a box (would I be popping out of a refrigerator box? Would the box be on its side, with me facing the camera?) but I figured I'd let the professionals sort those details out.
"As it turned out, the photographer, Jan Cobb, built a specially-made box just for the photo-shoot. It was on its side, with dimensions tailored specifically to my side. I'd scored some amazing retro dresses from Pin-Up Girl Clothing out in Los Angeles, so we tried a few different dresses with a couple different hairstyles. The makeup artist and hairstylist, Rhona Krauss, made me feel like I had a severe case of sexiness. In an instant, I went from a 6 to a 7.75, at least in my own mind. The shoot was an incredibly good, goofy time, and I got to make silly faces for an hour.
"When I saw the proofs for the cover, I was stunned at how fabulous it was. I looked nice, but the design itself was so cool. Who would've envisioned a red-on-red cover? Mary Schuck at HarperCollins, that's who. It was particularly appropriate since we knew the book was coming out on Valentine's Day.

"Now I'm completely delighted with how it came out, and I can't wait to share it with the rest of the world! And I got to keep the dress, so I might wear it on my book tour just to be silly."
Thanks, Sara. I'm into the red on red, the cute shoes, the illustrated nightstand/clock and the dress! Divine.
What do you guys think?
Want to keep up with my Cover Stories, and all of Barnes & Noble's exclusive reviews, authors interviews, videos, promotions, and more? Please follow us on Twitter: @BNBuzz!
Melissa Walker is the author of six Young Adult novels, including the Violet trilogy, Lovestruck Summer, Small Town Sinners and the upcoming Unbreak My Heart. She is co-creator of the popular teen newsletter I Heart Daily and the awkward-stage blog Before You Were Hot, as well as the blogger for readergirlz.com. Her author blog, where Cover Stories originated, is melissacwalker.com. Follow her on Twitter @melissacwalker.
Permalink