Thread Options
Mark as New

Mark as Read

Bookmark

Subscribe

Email to a Friend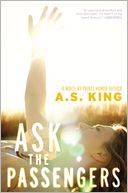 The hugely talented A.S. King, whose latest novel--Ask the Passengers--is receiving raves and stars from reviewers across the board, also happens to have a gorgeous cover to share. Here's the story:
"Even though I'm a cover art geek and a visual artist first, I just had no idea what they were going to do with this cover. As a minimalist, I'm guessing that the only cover idea I'd have had would have been a huge white question mark on a plain black cover. This is why I'm a novelist and not a cover designer.
"My editor is amazing when it comes to keeping me in the loop with covers. But this one was interesting. I'm sure she asked me, but I don't remember what I answered (or I gave her the lame idea above) but I do remember her saying that they'd found an image that might be perfect. Then she sent the image...and it was perfect. We did see some other comps from the art department, but in the end, I think we all thought that one image really worked.
"You know I'm a fan of non-photographic covers on a whole, but this image seemed to convey everything Astrid was going through in the book, so I was just stoked to see the final cover, really.
"My publisher always lets me make comments. They are fantastic like that. They usually send a file with 6 or so cover ideas and we discuss them. This continues until we have a final cover. There is a lot of discussion.
"There were no changes to the cover. Not this time! (Is this the most boring Cover Stories you ever read or what? I so want to say 'Yes! The original cover had dragons eating cupcakes on it but I asked them politely to change it and they did, but only after a fight to the death on Park Avenue.' But that wouldn't be true.)
"I'm 99.999% sure it's a stock photo, and I love it. I mean, it's far better than a black cover with a huge question mark on it, right? On a deeper level, there are a few things in the image that fit the feel of the book for me. This is a girl both reaching toward the sky with what looks like hope or love on her face, but it's also a girl who is being slammed with pure sunshine. Warmth. Light. And no matter how she tries to block it with her hand, she can't. I like to think that no matter what boxes society puts us in or what labels are affixed to us as we journey through life, warmth, light, and sunshine (and hope and love) are all possible."
Thanks, A.S.! The sunlight play on this cover hit my heart instantly. It shines.
What do you guys think of this cover?
Melissa Walker is the author of six Young Adult novels, the latest of which is Unbreak My Heart (pictured). Her author blog, where Cover Stories originated, is melissacwalker.com. Follow her on Twitter @melissacwalker.
Keep up with all of my blogs – as well as all of Barnes & Noble's exclusive reviews, authors interviews, videos, promotions, and more – by following @BNBuzz on Twitter!
Permalink