Thread Options
Mark as New

Mark as Read

Bookmark

Subscribe

Email to a Friend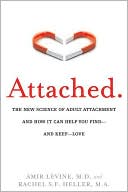 Most of our Cover Stories have dealt in fiction, but it's interesting to consider what designs work for non-fiction titles, especially books with scientific research and data in them. Here are Amir Levine, MD, and Rachel S.F. Heller, MA, to talk about the cover of their new book, Attached.
"For several years, while writing the book, we'd been obsessed with the title. Some books start out with a perfect title – and there's no question about it. But in our case, we must have come up with 300 possible titles and were pleased with none – and then suddenly, out of nowhere, our editor at Tarcher/Penguin sent us a pdf of the cover art by email, without any prior warning. We hadn't even been thinking about the cover art and were shocked. It took a long time for us to get up the nerve to open it and several days before we could actually discuss it with one another. We were shell shocked. It was unexpected and out of the blue. One reason for our shock was probably that this was the first very concrete sign that the book was a reality and that it was actually going to be coming out pretty soon -- after 5 years of work. The cover drove this point home very strongly.
"The main thing we had been worried about when it comes to the cover design was that they'd come up with a couple kissing to the background of a sunset or fireplace. Something that we'd cringe looking at and that would present the completely wrong message for our book. The book is about amazing scientific findings that completely revolutionize the way you view romantic relationships. And the message could so easily be watered down by a frilly romantic cover. Also, the book is not typical of relationship books in that it's aimed at a very broad audience – women and men, young people who are dating but also people who've been married for 30 years. So, we were worried the cover would exclude certain segments.
"The good news was that neither of us had anything against the cover art (shown bigger at right). Which, for the two of us, is saying A LOT. We are both such perfectionists and have strong opinions about a lot of things. What's more, the reactions we got from people we showed it to were incredible. From Rachel's husband, who's a hard-core science guy, to a close friend of Amir's, who's a famous illustrator who works for the New Yorker and Vanity Fair, to younger women and the list goes on – they all loved it.
"The only comment we got from a couple of people was that the magnets are in fact pushing each other away. We actually asked a physicist about this and he told us this isn't necessarily true. But even if it were, it would still fit well with our book because one of the things we talk about is two certain types of people who actually can never really connect perfectly – they almost connect but don't. And of-course, the magnet also works well illustrating those who really do connect perfectly – given the assumption that these two magnets are about to click into place. So, it's actually great that the heart-shaped magnets cover both options!
"After the initial shock, we fell in love with the cover. Today we see its magnetic effect on people. When people see the cover, it always grabs their attention and they always ask about it and must take a look. In fact, once Rachel was mailing a copy at a certain mail carrier's, and all three staff members stopped their work to come see it – and this was before they even realized she was the co-author. It also mysteriously took this package about 10 days to reach its destination, instead of the expected three days. Who knows? Maybe just a coincidence."
Thanks, Amir and Rachel! I think Attached has a cover that really balances that personal appeal (the heart) with a feeling of science and research (magnets). What do you guys think?
Melissa Walker is the author of four Young Adult novels, including the Violet trilogy and Lovestruck Summer. She is co-creator of the popular teen newsletter I Heart Daily and the new awkward-stage blog Before You Were Hot, as well as the blogger for readergirlz.com. Her author blog, where Cover Stories originated, is melissacwalker.com.
Permalink