Thread Options
Mark as New

Mark as Read

Bookmark

Subscribe

Email to a Friend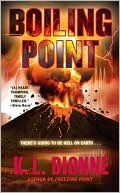 Publishers Weekly recommends Karen Dionne's second ecothriller for fans of Michael Crichton, saying her "crisp writing keeps the pace fast" and admiring her "tight interweaving of story lines." She admits that she was less successful, however, at thinking about her cover design. Luckily the design team stepped up. Here's Karen with her Cover Story:
"My new environmental thriller, Boiling Point, features an erupting volcano, a missing researcher, and a radical scheme to end global warming. Since the story takes place at Chaitén volcano in Northern Patagonia, Chile, naturally, I imagined a photograph of an erupting volcano on the cover. Something like this one taken by Carlos Gutierrez during Chaitén's initial eruption, which actually inspired me to write the story (below left).
"I knew that getting permission to use Gutierrez's photograph would be a long shot. But I'd traveled to Chaitén volcano to research the novel, and secretly hoped the art department might consider using one of mine (right).
"However, my publisher explained that putting a photograph of a volcano on Boiling Point's cover – anyone's photo – would make Boiling Point look like non-fiction, rather than a novel. Sure enough, when I searched on 'volcanoes' on Barnes and Noble's website, I quickly realized they were right.
"I'd also imagined a helicopter canted at a dangerous angle superimposed in front of the erupting volcano, since in the story, a volcanologist filming from a helicopter gets caught in the initial blast. But my publisher explained that including a helicopter could make Boiling Point look like a military thriller, or an action-adventure novel, instead of the big science thriller it really is.
"Clearly, the art department understood more about what goes into making a terrific cover than I did, so I resolved to sit tight and wait. Even so, I couldn't help worrying just a little. How could an illustration of a volcano ever look as awe-inspiring or frightening as a photograph of the real thing? I'd experienced Chaitén volcano from less than a mile away, seen the steam vents, heard explosions coming from the caldera, felt a small earthquake.
"But as soon as I saw the final cover, I fell in love with it. All of the elements work together to create just the right mood. Ominous blacks and reds and yellows, a massive volcanic plume shot through with lightning, boulders flying out of the caldera to convey the feeling of danger and movement. A graph in the background hints at the scientific aspects of the story, and heavy embossing and red foil lettering on my name and the title really make the cover pop!
"As far as I'm concerned, there's just one thing wrong with Boiling Point's cover. The finished book is so gorgeous, the catalog photo doesn't do it justice!"
Thanks, Karen! I find it so interesting that a real photo would make the book look more like a non-fiction title -- that makes sense but I'd never thought about it. In any case, the dramatic final version is certainly hot.
What do you guys think of this cover?
Melissa Walker is the author of four Young Adult novels, including the Violet trilogy and Lovestruck Summer. She is co-creator of the popular teen newsletter I Heart Daily and the new awkward-stage blog Before You Were Hot. Her author blog, where Cover Stories originated, is melissacwalker.com.
Permalink