Thread Options
Mark as New

Mark as Read

Bookmark

Subscribe

Email to a Friend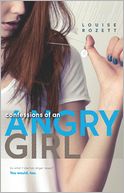 Louise Rozett's debut novel has a mostly white cover, but the pops of blue stand out. Here she is to tell the tale of how the ended up with this image, and this girl:
"I love the cover for Confessions of an Angry Girl, and I had no idea that arriving at this particular cover was going to be such an incredibly creative process with so many twists and turns along the way...

"I had a few favorite covers in mind when I finished my book: I've always been drawn to the clean visual style of James Frey's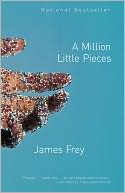 A Million Little Pieces, and Alice Sebold's The Lovely Bones. But I couldn't quite come up any comparable ideas for my book. My editor asked me for some ideas, or, barring that, a list of covers I liked that I thought could work conceptually for Confessions of an Angry Girl. I pulled together a list that was probably no help at all.

"When I turned in my manuscript, it had a subtitle, which was 'Freshman Year.' On an early version of the cover, the subtitle became the title, and the cover showed a stock photo of a girl who looked pretty young, and pretty sad. The image and the design were lovely, but it became clear pretty quickly that it wasn't quite right for our Angry Girl. So we took a few months to come up with the current title, and I'm pretty sure art/design breathed a sigh of relief, because it gave them a lot more to work with than my first title.


"They came up with a number of ideas that I liked, but in the end, they ended up going with one that I didn't particularly like—at least not initially. In fact, I had a very strong reaction to the mock-up of the current cover. But the bottom line is, I'm not a particularly visual person, so it was really hard for me to keep in mind that the mock-up was about the concept, not the details. I couldn't see past things like the model in the stock photo being too glamorous and too old, and the color scheme being too happy, and on and on! (Sadly, this problem has plagued me my whole life. When I was seven, and my parents took me to see the house they wanted to buy, I was totally horrified by the place because it had not been well loved by its previous owners, and all I could see was the dirt and grime. They, of course, could see past all that to the beautiful home it would be once we'd moved in and done some work on it. What does this say about me? I shudder to think...)

"But my editor and the design team assured me it was all going to be fine. They worked with a model who really fit my idea of what Rose (the narrator) looks like, and they added some wonderful, cool elements to the cover concept that of course I never would have thought of. And when I saw the final version, I was so happy I couldn't believe it.
"I was really lucky--the process, while not easy for anyone involved--felt extremely collaborative to me and I felt free to express my concerns. And when I look back on where we started, I'm amazed by where we ended up. But we needed every version of that cover because they all inspired conversation and idea-exchange, and we ended up with a cover that feels just perfect to me. And now, thanks to the design team at Harlequin TEEN, blue nail polish is my signature gift for fans of the Confessions of an Angry Girl!"


Thanks, Louise! I love the idea of a signature gift, and blue nail polish sounds perfect for this audience. Or me, I mean, I'd like some too. One thing I noticed/liked about this cover is the intense necklace pull. There's ferocity in that small gesture that captures the character well, I think. Watch the trailer here.
What do you guys think of this cover?
Melissa Walker is the author of six Young Adult novels, the latest of which is Unbreak My Heart (pictured). Her author blog, where Cover Stories originated, is melissacwalker.com. Follow her on Twitter @melissacwalker.
Keep up with all of my blogs – as well as all of Barnes & Noble's exclusive reviews, authors interviews, videos, promotions, and more – by following @BNBuzz on Twitter!
Permalink