Thread Options
Mark as New

Mark as Read

Bookmark

Subscribe

Email to a Friend


In the history of Cover Stories, I've never interviewed an author about a children's book. I wasn't sure how it worked with illustrators and publishers. But this week, Dashka Slater is here to talk about her new release, Dangerously Ever After, and she has a great story to share:
"When I turned in a story about a princess with a very dangerous garden, I knew the illustrations would have to do a lot of things simultaneously. They had to convey the edgy, dark feel of a princess who likes dangerous things, but also show the sweetness and brightness of a book that is, at its core, a love story. They had to be funny, since many of the jokes in the book are visual. They had to be whimsical, since many of the plants are invented, but they had to be botanically accurate, since some of the plants are real. Not only that, but they had to appeal both to kids who love princesses and to kids who love explosions and snot jokes. Most of all, they had to appeal to parents, since it's usually parents who select and purchase picture books.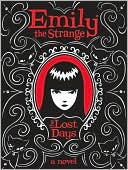 "Given this tall order, it's probably not surprising that it took a full year to find the right illustrator. I'd originally pictured something kind of
Emily the Strange
(left) or
Edward Gorey
in feel, but my editor steered me away from going too dark, for which I'm grateful.
"Different houses involve writers in the illustrator selection to different degrees and in this case my editor, the art director, and I tossed around dozens of names and perused many, many portfolios before whittling it down to a short list, with Valeria Docampo at the top. I was delighted when she agreed to do it but I had very little sense of what her illustrations for my book might look like, since most of her previous work was quite different.

"While I saw the first interior illustrations two years ago, I didn't see the cover until February of this year. My editor, Jessica Garrison, emailed me a PDF of the cover with the words, 'Prepare to have your mind blown.' By that time I knew that the book was being positioned as a kind of unconventional princess book, which was something I hadn't really considered when I was writing it. I had just seen it as a funny story about noses, roses, and a very dangerous garden, with a main character who happened to be a princess. I was a nervous that emphasizing the princess angle was going to make it feel cheesy and forced – and would keep any boy from ever cracking its covers.
"The cover was thus a huge relief. I'm amazed at how one picture seems to convey everything I wanted. Princess Amanita looks stylish and pretty but her expression and her armor-like scorpion dress indicates a dangerous temperament. The letters are pink but they appear on a field of blue, which keeps the book from looking like it belongs in a gender-stereotyped pinky princess ghetto. The tendrilly mace vines are menacing and whimsical at once, with a little of the antique feel of a botanical illustration. And the costumed cat makes it clear that this is not going to be too serious or too scary of a book. I didn't think all of that through when I saw it though - I just knew that if I saw it in a bookstore I'd want to see what was inside."
Thanks, Dashka! I think the cover is gorgeous--truly--and I love the idea that both girls and boys will be attracted to it. The thorns and the title give it edge, and the blues and oranges and grays are lovely.
What do you guys think of this cover?
Melissa Walker is the author of six Young Adult novels, the latest of which is Unbreak My Heart (pictured). Her author blog, where Cover Stories originated, is melissacwalker.com. Follow her on Twitter @melissacwalker.
Keep up with all of my blogs – as well as all of Barnes & Noble's exclusive reviews, authors interviews, videos, promotions, and more – by following @BNBuzz on Twitter!
Permalink