Thread Options
Mark as New

Mark as Read

Bookmark

Subscribe

Email to a Friend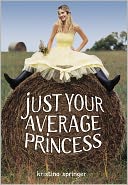 Kristina Springer's Just Your Average Princess has a decidedly fun fall cover. Here's the author to talk about how it came to be:
"The only cover idea I really had is that I thought it would be a pale pumpkin orange color. That's how I first thought of the idea for Just Your Average Princess actually. I was looking at my kitchen walls, which are pumpkin colored, and I thought the color would look so pretty on a book jacket. Then I thought about the pumpkin patch across the main road from us and next thing I knew I was writing about a girl who grew up on a pumpkin patch.
"When I saw the cover, I think my very first thought was 'This is so cute!' I loved the girl and I thought her dress was perfect. And I never would have imagined she'd be up on a hay roll but it looked great and I loved how the title was written across it.
"I believe it was a stock photo. Although people always tend to think the girl on the book cover is the author. Already I've had someone ask me how I got up on that hay roll.
"One of the things I especially liked was the girl. I like that you can see it's a normal girl being herself, even in a fancy dress. Her hair isn't blown out to perfection and she's still sporting her work boots. She seems like the type of person who stays true to herself."
Thanks, Kristina! I love the juxtaposition of the dress and the work boots -- I think it says a lot about the character and the story you're about to read.
What do you guys think?

Want to keep up with my Cover Stories, and all of Barnes & Noble's exclusive reviews, authors interviews, videos, promotions, and more? Please follow us on Twitter: @BNBuzz!
Melissa Walker is the author of five Young Adult novels, including the Violet trilogy, Lovestruck Summer and the just-published Small Town Sinners. She is co-creator of the popular teen newsletter I Heart Daily and the awkward-stage blog Before You Were Hot, as well as the blogger for readergirlz.com. Her author blog, where Cover Stories originated, is melissacwalker.com.
Permalink