Thread Options
Mark as New

Mark as Read

Bookmark

Subscribe

Email to a Friend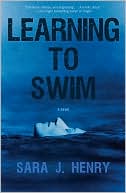 Sara J. Henry is here to share the story behind the powerful cover for her new novel, Learning to Swim:
"One of the challenges for creating a cover for Learning to Swim is that it's a suspenseful book without a suspenseful title – so it was crucial that the cover suggest suspense.
"The book opens with a scene of a woman diving off a ferry to rescue a small child, and the only vague idea I had for the cover was perhaps a depiction of her sitting on a big rock with her arm around the child, backs to the viewer, not in detail, with the lake in front of them, dark and very blue in color. And I loved the mood in this photo, below, by Adirondack photographer Barry Lobdell.
"I'll admit I wasn't crazy about the first cover the publisher sent us (okay, my heart sank). It was a stormy green-blue scene of a huge storm cloud over water, with big letters that to me looked like fluorescent light bulbs. It wasn't a bad cover, but it didn't seem right for my book – it seemed to suggest paranormal or spiritual, or even horror.
"This is when you thank your lucky stars for having a great agent. Mine felt much as I did, and also believed the cover needed a human element because so much of the book is about people and emotions. So he discussed it with the publisher. Some of the other covers that had been considered were gorgeous — and some used images from the photographer I liked (see below left and below right) — but most simply didn't portray suspense. However, one in particular we liked, and the publisher very generously agreed to go back to the drawing board to tweak that one.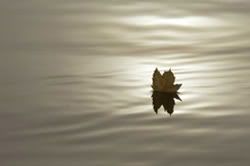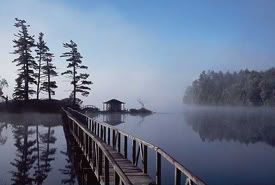 "What they came up with was the final cover – actually quite different than the one they'd started with (which I still love, but it was more of a British look, and not as evocative). From the moment I saw this new one, it struck me as a cover that would get someone's attention from across the room. And that's how it's turning out – people are loving this cover. Although one friend pointed out it looks as if the book should be entitled Learning to Float, because that's the sort of friends I have.
"While the image can work a number of ways with the content of the book, I like to think of this particular image as a certain character floating in the water, thinking.
"The curious thing is that the person in the water looks a bit like me – one of my friends actually asked if it was me. But that's completely coincidental."
The jacket design is by Nupoor Gordon, and the cover image is from Barnaby Hall/Getty Images.
Thanks, Sara! I think Learning to Swim has a really evocative cover -- it's calm, but also ominous, and the strong blue demands attention. You can read the first chapter of the book here.
Other thoughts on this cover?
Melissa Walker is the author of four Young Adult novels, including the Violet trilogy and Lovestruck Summer. She is co-creator of the popular teen newsletter I Heart Daily and the new awkward-stage blog Before You Were Hot. Her author blog, where Cover Stories originated, is melissacwalker.com.
Permalink